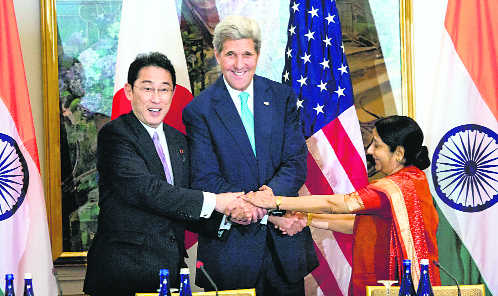 New York, September 30
Amid China's growing assertiveness in South China Sea, India, Japan and the US at their first-ever trilateral ministerial dialogue here called for a peaceful settlement of disputes, freedom of navigation and unimpeded lawful commerce including in that area.
Representing a quarter of the world's population and economic production power, the three countries also agreed to work together to maintain maritime security through greater collaboration while highlighting the growing convergence of their interests in the Indo-Pacific region.
The meeting was attended by External Affairs Minister Sushma Swaraj, her Japanese counterpart Fumio Kishida and US Secretary of State John Kerry. In a media note released after the meeting yesterday, the three ministers highlighted the growing convergence of their respective countries' interests in the Indo-Pacific region.
"They also underscored the importance of international law and peaceful settlement of disputes; freedom of navigation and overflight; and unimpeded lawful commerce, including in the South China Sea," the media note said.
Addressing the meeting, Swaraj said the Asia Pacific and the Indian Ocean region is strategic for India to its security and economic interests. The sea lanes of communication in the region are the lifetime – the lifeline of India's trade and commercial externalities, she said.
She noted that as part of India's 'Act East' policy, the country has focused on building stronger linkages with centers of economic growth in the region and deepened political and security ties with them, including ASEAN member countries.
In keeping with the Act East policy, India seeks an early membership of the APEC, Swaraj said as she voiced keenness to work with the US and Japan for early membership of APEC.
Given that a substantial part of India's energy and goods trade passes through the crucial sea lanes of Asia Pacific, Swaraj said as a law-abiding nation India has always supported the freedom of navigation in international waters, the right of passage and overflight, unimpeded commerce and access to resources in accordance with principles of international law. — PTI
Top Stories