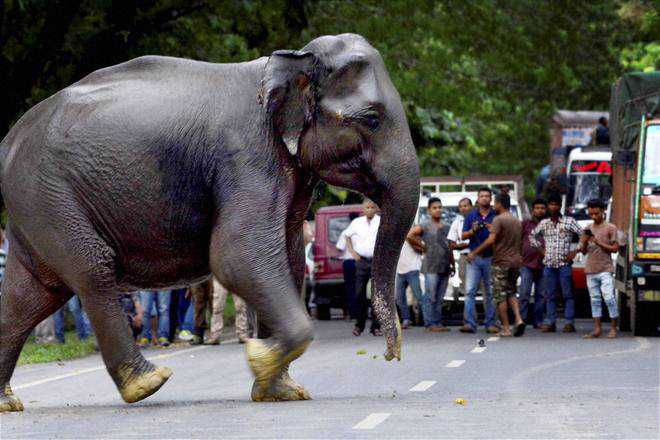 ROBINSINGH@TRIBUNE.COM
Bijay Sankar Bora
Tribune News Service
Guwahati, August 1
The UNESCO World Heritage site and abode of one-horned rhinoceros, Kaziranga National Park (KNP) in Assam has faced worst flood this year in a decade that precipitated unprecedented animal movement and large number of casualties, especially hog deer, a KNP official said.
The Mobile Veterinary Service (MVS) units of the Centre for Wildlife Rehabilitation and Conservation (CWRC) — the wildlife rescue, care and rehabilitation facility jointly run by the Wildlife Trust of India (WTI), Assam Forest Department (AFD) and International Fund for Animal Welfare (IFAW) — have attended to 107 wildlife rescued in the current wave of flood so far in the national park. As large areas were inundated in the park located on the south bank of the Brahmaputra, wild animals came out of it seeking higher ground across National Highway-37 towards the foothills of Karbi Anglong. While the Kaziranga Forest Authority had introduced a 'Time Card' system to regulate the speed of vehicles on NH37 during the floods, the role of MVS units — three from CWRC and one from WTI and the Japan Tiger and Elephant Fund's Wildlife Rescue Centre at Diphu — in running round-the-clock rescue and wildlife crisis mitigation operations in the four Forest Ranges adjoining the highway was crucial.
The MVS teams have handled 107 rescue cases in seven days. They have released 62 hog deer out of 92 rescue cases attended to date; they have also attended three eastern swamp deer rescues (two of the deer survived and were brought to CWRC for treatment).
Working with the Kaziranga Forest Authority, MVS teams have also attended to 10 flood-hit Asian one-horned rhinoceros, out of which one died before it could be brought to the rescue centre. The sudden influx of rescued animals, especially the large number of rhino calves, into CWRC has stretched the centre's resources to the limit.