PUNJAB

HARYANA

JAMMU & KASHMIR

HIMACHAL

REGIONAL BRIEFS

NATION

OPINIONS

MAILBAG

BUSINESS

SPORTS

WORLD
Tuesday, March 6, 2007, Chandigarh, India
Updated at 3:00 am (IST)

Onions, Sensex plunge
Mumbai, March 5
The onion prices fell sharply today with fresh arrivals flooding the Nashik agricultural markets, the country's biggest trading centre of the bulb. Inquiries from the Nashik markets revealed that the fields had yielded a bumper later winter crop and the prices would soon plunge to new lows.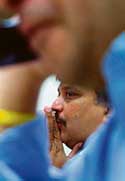 471-point fall
Mumbai, March 5
Continued bear hammering on the back of weakness in bourses worldwide caused the BSE Sensex to plunge 471 points to close at 12,415. Sensex touched a low of 12,344 during intra-day deals before recovering marginally.


In video (56k)


Business page: Rupee loses 34 paise, ends at 10-week low



CAST YOUR VOTE
Does the Sensex fall call for any government intervention?


ADVERTISEMENT
ADVERTISEMENT
ADVERTISEMENT
ADVERTISEMENT

CHANDIGARH

LUDHIANA

JALANDHAR
New

DELHI

HIMACHAL PLUS
New

AMRITSAR PLUS

LIFESTYLE
New

BRIDES WANTED

GROOMS WANTED

OTHERS

HOW TO PLACE ADVTS
In Education Tribune today
Badal gets going

Big units lose relief
Chandigarh, March 5
Punjab Chief Minister Parkash Singh Badal today set the tone for things to come in the future as he made it clear that excise concessions worth Rs 230 crore given to leading industrial houses during the previous Amarinder Singh-led government, will be withdrawn.

Nation page: Wait for SC order, Soz tells Badal
Editorial: Pouring oil over water
Punjab page


Mahajan his addl principal secy


Sonia to name CLP chief

Vigilance panel may go
Chandigarh, March 5
The Punjab vigilance commission may become the first casualty of the change in government in Punjab. The SAD-BJP alliance was seriously considering to scrap the Punjab vigilance commission which was set up late last year.


A Nihang Singh throws colour on devotees during a procession at Anandpur Sahib on the concluding day of Hola Mohalla on Sunday.
— Tribune photo by Pradeep Tewari

India: The Tasks Ahead

SPECIAL SUPPLEMENT

125TH ANNIVERSARY CELEBRATIONS,
INAUGURAL SESSION

| | |
| --- | --- |
| | PUNJAB: Badal to work 3 days a week |
| | HARYANA: State govt reacts sharply to Badal's threat |
| | HIMACHAL: 300 passengers await airlifting |
| | |
| | CHANDIGARH: Little Aman dies |
Editor's Column
Not by quick-fix
Sri Lanka needs healing touch
H.K. Dua, recently in Colombo, writes

HOROSCOPE
HP Budget '07
Punjab effect: CM in sop mode
Shimla, March 5
Haunted by electoral reverses in the neighbouring state of Punjab and elsewhere, Himachal Chief Minister Virbhadra Singh today came out with a scheme to provide subsidised foodgrains to all categories of consumers to mitigate the impact of inflation and announced a plethora of sops for various sections of people.
Stage set to get Q
Argentinian govt okays extradition papers, to move them to federal court


Buenos Aires, March 5
The attempts to seek extradition of Bofors accused Ottavio Quottrocchi moved a step forward on Monday when the Argentinian government cleared the papers submitted by Indian Government for proceedings before a federal court in a province.
Killing of MP
Jharkhand shuts down
Ranchi/Jamshedpur, March 5
Life in Jharkhand was paralysed today by a statewide dawn-to-dusk bandh called by all political parties to protest yesterday's gunning down of JMM general secretary and MP Sunil Mahto by the Naxalites.


In video (56k)


Nation page: Bandh hits life in Jharkhand

Dead animals, slush in treated water tanks
Chandigarh, March 5
Several tonnes of slush, organic pollutants like lizards, pigeons and cockroaches, besides inorganic pollutants has been found in the main supply tanks of treated water.


E - Revolution 2005:
A Two-day IT conclave

Assembly Elections - 2005

Turbans

Chandigarh is 50

EARLIER FEATURES
Badal talks tough on water-sharing pact
March 4, 2007

Team Badal sworn in
March 3, 2007

Mulayam's assets: CBI to probe
March 2, 2007

Peanuts for Common Man
March 1, 2007

SAD FOR CONG
February 28, 2007
Fares down, freight same
February 27, 2007
Q's extradition: CBI team to go to Argentina
February 26, 2007
Identity check led to delay
February 25, 2007
Quattrocchi held in Argentina
February 24, 2007
Special cell on inflation
February 23, 2007
UP poll in 7 phases
February 22, 2007