PUNJAB

HARYANA

JAMMU & KASHMIR

HIMACHAL

REGIONAL BRIEFS

NATION

OPINIONS

MAILBAG

BUSINESS

SPORTS

WORLD


CHANDIGARH

LUDHIANA

JALANDHAR
New

DELHI

HIMACHAL PLUS
New

AMRITSAR PLUS

LIFESTYLE
New
ADVERTISEMENT
Wednesday, April 4, 2007, Chandigarh, India
Updated at 3:00 am (IST)

Duty-free access for LDCs: India
New Delhi, April 3
It was a unique 14th Saarc summit in many ways that Prime Minister Manmohan Singh inaugurated today. Pakistan did not mention the K-word.


In video (56k),

In video (56k),

In video (56k)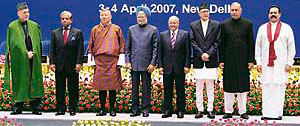 SAARC'S SUPER 8: From left Afghan President Hamid Karzai, Bangladesh Government's chief adviser Fakhrudeen Ahmed, Bhutan Prime Minister Lyonpo Khandu Wangchuk, Prime Minister Manmohan Singh, President of the Maldives Maumoon Abdul Gayoom, Nepalese Prime Minister Girija Prasad Koirala, Pakistani Prime Minister Shaukat Aziz and Sri Lankan President Mahindra Rajapakse pose for photographers at the Saarc Summit in New Delhi on Tuesday. — A Tribune photograph
Kashmir first, rest later, says Aziz
New Delhi, April 3
Pakistani leaders are known to be masters in the art of media management and Prime Minister Shaukat Aziz proved to be no exception today.
CAST YOUR VOTE
Is UK being discriminatory by serving deportation orders on Indian professionals unable to meet the new Highly Skilled Migrants Programme criteria?

HOROSCOPE


BRIDES WANTED

GROOMS WANTED

OTHERS

HOW TO PLACE ADVTS

E - Revolution 2005:
A Two-day IT conclave

Assembly Elections - 2005

Turbans

Chandigarh is 50

EARLIER FEATURES
In Jobs & Careers today
CLU cancellations
CM seeks fresh guidelines
Chandigarh, April 3
In a desperate bid at damage control, Punjab Chief Minister Parkash Singh Badal today, while washing his hands off the decision to withdraw the change of land use (CLU) approvals to promoters of mega-housing projects, directed the chief secretary to submit within 10 days fresh guidelines for setting up of residential projects in the vicinity of industrial units.
Rahul draws youth in Mulayam's bastion
Bharthana, (Etawah), April 3
Rahul Gandhi is facing a tough competition from Hema Malini who has started campaigning for the BJP candidate. Yet in the heart of Mulayam Singh Yadav's fiefdom, an impressive crowd, especially of young men, came to hear the youthful MP from Amethi.

Congress MP from Amethi Rahul Gandhi waves at the crowd during a public meeting at Bharthana in Etawa on Tuesday. — PTI
EC cautions poll officials in UP
New Delhi, April 3
The Election Commission today directed poll officials to act fast in gathering advance information about any possible trouble ahead of the Assembly poll in Uttar Pradesh, after expressing concern over the violence in Lucknow and Kanpur.

India: The Tasks Ahead

SPECIAL SUPPLEMENT

125TH ANNIVERSARY CELEBRATIONS,
INAUGURAL SESSION
In Amritsar Plus today
In Health & Fitness today
In Himachal Plus today
Portland cement import made duty-free
New Delhi, April 3
With cement companies refusing to cut prices, the government today abolished all duties on import of portland cement and said it was open to reviewing dual excise structure announced in the Budget 2007-08 to make the construction raw material cheaper in domestic market.

US indicts 4 for tech smuggling
Washington, April 3
An Indian, heading a US electronics supplier, and three of his compatriots employed in the firm have been indicted for allegedly exporting sensitive US missile technology to India in violation of laws.
Quake rattles parts of region
Islamabad, April 3
An earthquake measuring 6.2 on Tuesday hit mountainous area of northeast Afghanistan, sending powerful tremors across neighbouring Pakistan. Mild tremors also hit northern India, including Jammu and Kashmir, where people rushed out of their houses for safety.
Apna Twenty20: Zee plans a Packer
New Delhi, April 3
Zee Telefilms are all set to play a Kerry Packer when it announced here today that it would hold a kind of "parallel" professional Twenty20 Cricket League to challenge the might and monopoly of the monolithic Board of Control for Cricket in India (BCCI).
| | |
| --- | --- |
| | 'BCCI president Sharad Pawar has received a letter from Subhash Chandra, Zee Television, seeking permission to start the Indian Cricket League. An appropriate decision in this matter will be taken by the board.' — BCCI secretary Niranjan Shah |
In Jalandhar Plus today
Dalal St bleeds
April 3, 2007
Maoists join interim Nepal govt
April 2, 2007
PAU VC quits in protest
April 1, 2007
Ensure quota: Parties
March 31, 2007
SC stays OBC quota in IITs, IIMs
March 30, 2007
Punjab to honour water pacts
March 29, 2007
Suicide attack on Lanka army camp; 9 killed
March 28, 2007
Manju's killer gets death
March 27, 2007
Another SAD one for Cong
March 26, 2007
Will return only on lawyers' advice
March 25, 2007