PUNJAB

HARYANA

JAMMU & KASHMIR

HIMACHAL

REGIONAL BRIEFS

NATION

OPINIONS

MAILBAG

BUSINESS

SPORTS

WORLD

ADVERTISEMENT

Friday, June 22, 2007, Chandigarh, India
Updated at 3:00 am (IST)

Bad weather forced NASA on Thursday to delay bringing space shuttle Atlantis back to Earth at least until Friday, the US space agency said.
3 concerns: storms, rain, low cloud cover
NASAís greatest concern for todayís landing is the possibility of storms, rain or low cloud cover, predicted at 900 metres for the landing, a spokesman for the Kennedy Space Centre said.


School children hold placards for the safe return of Sunita Williams from space at St. Joseph's Cathedral in Hyderabad. ó AFP
In video (56k)

Left Rejects UNPA Plea
Pratibha can breathe easy
New Delhi, June 21


With UPA presidential candidate Pratibha Patil resigning today as Rajasthan Governor, decks are clear for her now as the Left and ruling alliance constituents strongly rejected the UNPA's move to get incumbent President A P J Abdul Kalam a second term and both the opposition alliances unable to decide the future course of action on the presidential issue.
CAST YOUR VOTE
Does the budget encourage buying rather than constructing houses?



India: The Tasks Ahead
SPECIAL SUPPLEMENT
125TH ANNIVERSARY CELEBRATIONS,
INAUGURAL SESSION



ADVERTISEMENT

CHANDIGARH

LUDHIANA

JALANDHAR

DELHI

HIMACHAL PLUS

HARYANA PLUS
New

AMRITSAR PLUS

LIFESTYLE

BRIDES WANTED

GROOMS WANTED

OTHERS

HOW TO PLACE ADVTS
In Science & Technology today
India Stands Firm
G-4 talks fail
New Delhi, June 21
WTOís Doha Round suffered another setback as talks between four major players at Potsdam in Germany failed today because India refused to yield any ground on giving market for farm products to rich countries.
Heavy metal in Punjab House
It was just a coincidence that Thursday was World Music Day, but Cong beats were not music to Speakerís ears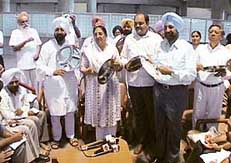 Chandigarh, June 21
Reacting to the clanging of steel plates with spoons in the house on the atta-dal issue by Congress MLAs, Speaker of the Punjab assembly Nirmal Singh Kahlon today reprimanded them.

Rajinder Kaur Bhattal with her music band in the lobby of the Punjab Vidhan Sabha. ó A Tribune photograph

Cabinet okays scholarships to minority students
New Delhi, June 21
The government today decided to give 20,000 merit-cum-means scholarships annually to students belonging to minority communities for pursuing professional and technical courses in a bid to better their economic condition.
In Jalandhar Plus today
In Haryana Plus today

E - Revolution 2005:
A Two-day IT conclave

Assembly Elections - 2005

Turbans

Chandigarh is 50

EARLIER FEATURES
The Tribune launches Haryana Plus
Over a period of time, our readers in Haryana have been asking for more news and features about the State and its people. To meet this long-felt-need of the readers, The Tribune today has come out with a weekly pullout, Haryana Plus.

ó H K Dua, Editor-in-Chief
Sonia as Durga creates flutter
Moradabad, June 21
Close on the heels of BJP activists depicting Rajasthan Chief Minister Vasundhara Raje and top party leaders as gods, it's now the turn of Congress men in Uttar Pradesh to do a similar encore on Sonia Gandhi.
PIL against Big-B
Mumbai, June 21
Acting on a public interest petition filed by a city-based journalist alleging that actor Amitabh Bachchan had violated the Foreign Exchange Management Act, the Bombay High Court today issued notices to the latter.
Army gets BrahMos
The army today became the first force in the world to be armed with surface-to-surface supersonic cruise missile, with the induction of BrahMos missile. (Details on Nation page)
Forget entrance exam, Rs 5 lakh will do
Ludhiana, June 21
A day ahead of the entrance test for the admission to Bachelor of Veterinary Sciences in Guru Angad Dev Veterinary and Animal Sciences University, touts have started making offers to candidates for "confirmed admissions".
HOROSCOPE
No new taxes in Punjab
June 21, 2007

Kalam reluctant to enter fray
June 20, 2007

NDA backs Shekhawat
June 19, 2007

Prez Poll: SP hints at abstention
June 18, 2007

Taxed, Badal plans desperate measures
June 17, 2007

Barnala in race for V-Pís post
June 16, 2007

Itís Pratibha Patil
June 15, 2007

Congress in Prez jam
June 14, 2007

Mayawati goes UPA way
June 13, 2007

Prez battle hots up
June 12, 2007