PUNJAB

HARYANA

JAMMU & KASHMIR

HIMACHAL

REGIONAL BRIEFS

NATION

OPINIONS

MAILBAG

BUSINESS

SPORTS

WORLD

ADVERTISEMENT
Monday, June 25, 2007, Chandigarh, India
Updated at 3:00 am (IST)

Rains claim 19 lives in Maharashtra
Mumbai, June 24
Heavy rains in Maharashtra since Saturday claimed 19 lives and deprived thousands of people of their homes as the monsoon fury reached the state. Five persons died in Mumbai as old buildings and shanties collapsed in the face of heavy rains and strong winds.
In video (56k)


People walk through a waterlogged street in Mumbai on Sunday.
— Reuters photo
Elsewhere, death toll touches 130
Bangalore, June 24
Even as heavy rains lashed Karnataka and Maharashtra, leaving the states in a chaos and complete disarray, the situation improved in worst-affected Andhra Pradesh and Kerala as the death toll in these states mounted to 130.

CAST YOUR VOTE
Should there be minimum qualification for bank directors?



India: The Tasks Ahead
SPECIAL SUPPLEMENT
125TH ANNIVERSARY CELEBRATIONS,
INAUGURAL SESSION



ADVERTISEMENT

CHANDIGARH

LUDHIANA

JALANDHAR

DELHI

HIMACHAL PLUS

HARYANA PLUS
New

AMRITSAR PLUS

LIFESTYLE

BRIDES WANTED

GROOMS WANTED

OTHERS

HOW TO PLACE ADVTS
HOROSCOPE

Genocide of Kurds
'Chemical Ali' gets death by hanging
Baghdad, June 24
An Iraqi court today sentenced Saddam Hussein's cousin, known as 'Chemical Ali', and two other former regime officials to death by hanging for their roles in a 1980s scorched-earth campaign that led to the deaths of 180,000 Kurds. 'Chemical Ali'
UK scraps plan to raise Sikh regiment
London, June 24
Britain has abandoned plans to raise an exclusive regiment of British Sikhs on the ground that it would be seen as a move encouraging racial segregation, a media report said on Sunday.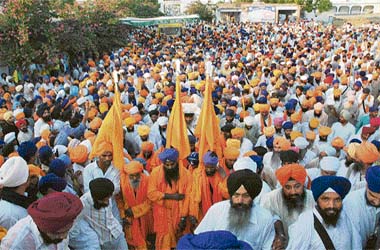 PEACEFUL MARCH: Led by the Panj Piaras, the Chetna march organised by Sikh activists reaches Takht Sri Damdama Sahib, Talwandi Sabo, in Bathinda peacefully on Sunday. It started from Gurdwara Zafar Nama Dina Sahib in Moga, about 120 km away.
— Photo by Kulbir Beera (Details on Punjab page)

E - Revolution 2005:
A Two-day IT conclave

Assembly Elections - 2005

Turbans

Chandigarh is 50

EARLIER FEATURES
Sunita reunites with family, gravity
Houston, June 24
Indian-American astronaut Sunita Williams had an emotional reunion with her family as friends and well-wishers gave her a rousing reception here, a day after her return from a record-setting mission to the International Space Station.



Editorial: Welcome home, Sunita
Hotel loan: PSB chief accused of favouring Badals
New Delhi, June 24
Two non-official Board of Directors of Punjab and Sind Bank have accused its chairman R.P.Singh of flouting rules and RBI guidelines in sanctioning Rs 150 crore loan at a lower rate of interest to Punjab Chief Minister Parkash Singh's son Sukhbir Singh Badal for the Orbit hotel in Gurgaon.


Punjab & Sind Bank crisis deepens
Conflict between management, directors widens;
CMD for all non-official directors' ouster
Chandigarh, June 24
The unsavoury controversy facing Punjab & Sind (P&S) Bank has taken a serious turn with the chairman-cum-managing director (CMD) RP Singh demanding ouster of all five non-official directors.
Enough is enough: Kalam
June 24, 2007
Sunita back
June 23, 2007
Sunita's return put off by a day
June 22, 2007
No new taxes in Punjab
June 21, 2007
Kalam reluctant to enter fray
June 20, 2007
NDA backs Shekhawat
June 19, 2007
Prez Poll: SP hints at abstention
June 18, 2007
Taxed, Badal plans desperate measures
June 17, 2007
Barnala in race for V-P's post
June 16, 2007
It's Pratibha Patil
June 15, 2007