Police zeroing in on 'human traffickers'
Dara Singh's daughter in trouble
Phagwara, June 28
The Kapurthala police has decided to issue 'lookout circular' (LOC) to airport authorities all over the country against all accused of 'human trafficking', including former Bharat Kesari Sunny Gill and Loveleen, son-in-law and daughter, respectively, of world famous wrestler and film actor Dara Singh.
BSNL phones face dead end
Kapurthala, June 28
A lot of inconvenience is being faced by the customers of Bhartiya Sanchar Nigam Limited (BSNL) as several landline telephones falling under Dhidwindi exchange have been dead for past several weeks.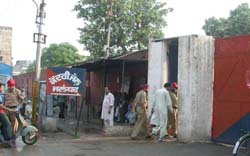 Overcrowded jail: Capacity 525, inmates 1,169
Shifting of 175 inmates to Ludhiana jail fails to solve the problem
Jalandhar, June 28
Central jail in Jalandhar, which remains in the news for controversial deaths of inmates, recovery of mobile phones and smack every now and then, is facing a severe problem of overcrowding.
Young World
Cooking fiesta: Students get new 'food' for thought
Jalandhar, June 28
A 15-day summer camp organised by Rana Cooking School concluded on Wednesday. Taranjit Kaur Mander, principal, took classes in innovative methods of preparation, preservation and presentation of summer dishes. Preparation of a variety of cold drinks, juices, cocktail, mocktail, tandoori, non-vegetarian, vegetarian, continental and Chinese items was taught to the students.

Students learn cooking skills during a 15-day summer camp in Jalandhar.
Bhajji's Exclusion


BCCI unfair with Punjabi cricketers, says trainer
Phagwara, June 28
Cricketer Harbhajan Singh's trainer Davinder Arora has alleged that the Board of Control for Cricket in India (BCCI) was discriminating against Punjabi cricketers. Harbhajan Singh was an able international-famed cricketer and he had been denied berth in the team for the present cricket series
Killer fodder: Two buffaloes die
Phagwara, June 28
A Gujjar of Ranipur village here got a rude shock when his two of the six buffaloes died after reportedly consuming pesticide-laced fodder last evening. The condition of another buffalo was stated to be critical.
Phagwara may face sewerage collapse
Phagwara, June 28
Covering of manholes to facilitate the construction of Satnampura railway overbridge might lead to another health hazard for the city. Despite warning by authorities, for laying of alternate sanitation system, no steps have been taken so far for lack of funds.
ICFE opens regional office in Phagwara
Phagwara, June 28
Institute of Computer and Finance Executives (ICFE) opened its fully computerised regional office at Hargobind Nagar here today to impart advanced practical training to commerce graduates.
Recruitment rally on July 3
Jalandhar, June 28
The Indian Air Force will hold a recruitment rally for candidates from Punjab and Chandigarh in group 'X' (technical) trades category at Air Force Station, Adampur, from July 3 to 6.