Friday, August 3, 2007, Chandigarh, India
Updated at 3:00 am (IST)

Troops at high altitudes to get more
New Delhi, August 2
In an effort to control stress-related violence, specially fragging, the union cabinet today cleared the proposal of the ministry of defence (MoD) to hike the perks and allowances of the armed forces personnel posted in high-altitude areas, fighting insurgency and terrorism.
US bridge cave-in: Senator has a close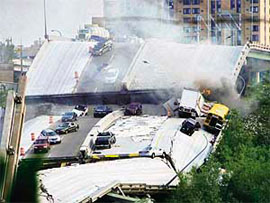 shave
An Indian American state senator had a near miss in a deadly bridge collapse in Minnesota on Wednesday evening.

Minneapolis Rumble: Vehicles are scattered along the broken remains of the interstate 35W bridge, which stretches between Minneapolis and St Paul, after it collapsed into the Mississippi River during evening rush hour on Wednesday, sending vehicles, tons of concrete and twisted metal crashing into the water. — AP/PTI photo

House-squatting
Speaker may be in line of SC fire
New Delhi, August 2
Expressing displeasure over the Centre's vague stand on the eviction of 30 odd bungalows occupied illegally by some former MPs, the Supreme Court today hinted that it could issue notice to the Lok Sabha Speaker to seek his help in getting the government properties vacated.