PUNJAB

HARYANA

JAMMU & KASHMIR

HIMACHAL

REGIONAL BRIEFS

NATION

OPINIONS

MAILBAG

BUSINESS

SPORTS

WORLD
Wednesday, October 3, 2007, Chandigarh, India
Updated at 3:00 am (IST)

Something cooking in Pak
After Mush, Gen Kiani
On a day of dramatic developments today opposition members resigned from the national and provincial assemblies, President Gen. Musharraf designated his successor and the Supreme Court admitted two petitions challenging Musharraf's candidature.

Benazir graft charges to go


Lt. Gen. Ashfaque Kiani. He will take over from Gen Hayat as vice-chief of the army on October 7.

Video: EC of Pak clears 5 candidates for prez election. (56k)
Myanmar: India suggests probe
New Delhi, October 2
India has toughened its stance on Myanmar's military regime, bowing to increased international pressure, but there are no signs of New Delhi doing what the international community wants most desperately, imposing sanctions on Myanmar.

Not honouring Gandhi was a mistake: Nobel Foundation
New Delhi, October 2
For the first time in history, Nobel Foundation has officially regretted not giving a Nobel Prize to Mahatama Gandhi, saying there was none more "stark omission than this."



Nation page: Gandhi's message universal: PM


J&K page: Valley's youth invoke Mahatma Gandhi for peace


Haryana page: Tributes paid to Gandhiji, Shastri


Chandigarh page: The Gandhi in him lives on

Violence mars Bishnoi party
Rohtak, October 2
Former Haryana minister, Subhash Batra, was allegedly beaten up by some persons owing allegiance to another faction of Bishnoi's supporters, at a tea party organised to welcome Bishnoi, here this afternoon.
CAST YOUR VOTE
Do hockey players deserve a better deal?

ADVERTISEMENT


CHANDIGARH

LUDHIANA

JALANDHAR

DELHI

HIMACHAL PLUS

HARYANA PLUS

AMRITSAR PLUS

LIFESTYLE

BRIDES WANTED

GROOMS WANTED

OTHERS

HOW TO PLACE ADVTS
In Health & Fitness today
In Jobs & Careers today
HOROSCOPE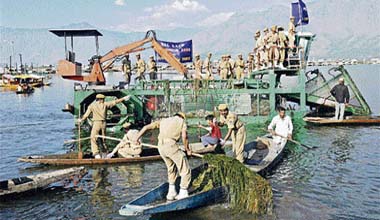 SAFAIgiri at Dal Lake:

Central Reserve Police Force jawans remove weeds from the Dal Lake as a part of the cleanliness drive on the occasion of Gandhi Jayanti in Srinagar on Tuesday. — PTI
Stir for ST Status
20,000 Gujjars court arrest
Jaipur, October 2
Over 20,000 Gujjars, demanding Scheduled Tribe quota status, today courted arrest in various parts of Rajasthan, officials said. Among those arrested include Congress MP Sachin Pilot, who led a procession of thousands of Gurjars at Muhana Mode, 25 km from here.
Thrashing of cops
Army apologies to J&K police
New Delhi, October 2
The Army has apologised to Jammu and Kashmir police personnel, who were allegedly beaten up mercilessly by its troops after the kerosene and petrol meant for Army use was seized by the policemen following allegations that it was to be sold in open market.

'Arundhati' dies 'natural' death
Dehra Dun, October 2
Arundhati, the fracture-ridden 75-year-old female elephant, which was in acute pain and awaited mercy killing, died here tonight of "natural causes". "Arundhati died of natural death," said an Uttarkhand Forest Department official.



Nation page: Maneka blames national park for negligence
In Amritsar Plus today
In Jalandhar Plus today
In Himachal Plus today


E - Revolution 2005:
A Two-day IT conclave

Assembly Elections - 2005

Turbans

Chandigarh is 50

125 Years of The Tribune
India: The Tasks Ahead

EARLIER FEATURES
Notice to Amitabh on TV advertisement
Lucknow, October 2
Amitabh Bachchan's controversial TV advertisement promoting Mulayam Singh Yadav's government during the Uttar Pradesh elections returned to haunt him with a notice being served on the Bollywood star questioning on what basis the claim was made in the jingle.
Sonia's remarks in US lead to some more rhetoric on nuclear deal
New Delhi, October 2
Congress president Sonia Gandhi's remarks on the nuclear deal have provoked communists to state that the UPA government cannot take their support for granted. Sonia Gandhi, reacting indirectly for the first time on the deal in New York, stated that there was no need for alarm on the Left's criticism of the Indo-US nuclear deal.



Business page: 123 may happen or not, they are ready for the kill
Sonia Gandhi, chairperson of the UPA, greets Rev Jesse Jackson (left) on the sidelines of the United Nations General Assembly at the UN Headquarter in New York on Tuesday.
— AFP photo
CPM softens
October 2, 2007
SC bans DMK bandh over Ram Setu
October 1, 2007
Mush papers accepted
September 30, 2007

SC: Musharraf can contest in uniform
September 29, 2007

Agitating farmers lathicharged outside Jallianwala Bagh
September 28, 2007

Crackdown launched in Myanmar
September 27, 2007

Adulation awaits Dhoni's boys
September 26, 2007

Yes, but just!
September 25, 2007


Setu row gets intense
September 24, 2007


Advani lists 3 'destabilisers'
September 23, 2007