COLUMNS



THIS ABOVE ALL

TELEVISTA

GOOD MOTORING

AUDIO SCAN

MUSIC ZONE

FASHION

WEBSIDE HUMOUR

FOR CHILDREN



CROSSWORD

RHYME TIME

ROOTS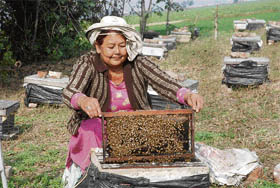 Sangeeta Deol of Dhanal village in Jalandhar is a pioneer in the bee-keeping business in the state. — Photos by Pawan Sharma

They are no longer just known as wives or daughters of farmers. They no longer restrict themselves to small jobs on the field. Today, more and more women in Punjab are boldly running farm operations to reap rich returns, reports
Sanjeev Singh Bariana
For long, women have been the 'unseen partners' in agriculture in Punjab. Their role has been confined to that of daughters or farmwives. However, with changing times, women are stepping out of stereotypical roles and openly taking charge of farmlands in the state. In the state which ushered in the Green Revolution during the 1960s, women are now managing farms, deciding cropping patterns, exploring marketing avenues and setting new and innovative trends in the business of food technology.
Its Amy all the way
Gaurav & Saurabh
Music, tradition and drama marked the 50th Grammy Awards
The Grammy Awards rang in its 50th show with a comprehensive, celebratory telecast that honoured the old, the new and everything in between as The Recording Academy paid tribute to its legacy as well as the exciting list of this year's honourees and performers.
Go in for a snazzy kitchen
It is no secret that a well-planned kitchen makes cooking a far more pleasant activity. So why despair looking at your drab kitchen? Call up specialists who will give it a new life and sparkle, writes Nutan Sehgal