Tuesday, June 10, 2008, Chandigarh, India
Updated at 3:00 am (IST)

PM warns of N-terror attack
Says global disarmament a distant dream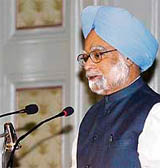 New Delhi, June 9
Making a strong case for the implementation of Rajiv Gandhi's ambitious plan for universal nuclear disarmament, Prime Minister Manmohan Singh today cautioned the international community of the risk of weapons of mass destruction (WMDs) falling into the hands of terrorists.
Prime Minister Manmohan Singh speaks during the inauguration ceremony of the two-day international conference on "Towards a world free of nuclear weapons" in New Delhi on Monday. — Reuters

Rape victim commits suicide at police HQ
Panchkula, June 9
A woman, who was allegedly raped by police personnel at Rohtak, committed suicide at the police headquarters here today. The deceased identified as Sarita (25), a resident of Saini Anandpura locality of Rohtak, along with her two children reached the office of additional director-general of police (law and order) V.B. Singh after consuming some poisonous substance and handed over the suicide note to him.


Chandigarh page: Senior officers can't escape blame

IMA Passing-out Parade
Army sees red over throwing regimental caps in air
New Delhi, June 9
The top brass of the Army has expressed its displeasure at the manner some of the cadets passing out of the Indian Military Academy, Dehra Dun, threw their regimental caps in the air. As per the laid down tradition, the cadets should have only thrown their IMA caps in the air to mark their joy at passing-out parade and not the regimental caps.