PUNJAB

HARYANA

JAMMU & KASHMIR

HIMACHAL

REGIONAL BRIEFS

NATION

OPINIONS

LETTERS

BUSINESS

SPORTS

WORLD
Tuesday, July 8, 2008, Chandigarh, India
Updated at 3:00 am (IST)

Azad quits
Srinagar, July 7
Chief Minister Ghulam Nabi Azad resigned without facing the confidence vote in the state Legislative Assembly here today. After seeking Speaker's permission to withdraw the confidence motion, he drove to Raj Bhawan to submit his resignation to Governor N.N. Vohra. Vohra accepted the resignations of Azad and his Council of Ministers and asked him to continue till alternate arrangements were made.



Editorial: Azad bows out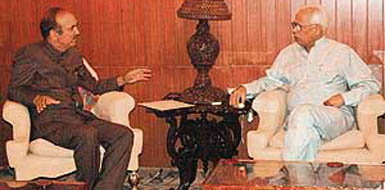 Ghulam Nabi Azad with Governor N. N. Vohra at Raj Bhawan. — A Tribune photograph

Terror visits Indian embassy in Kabul
Car bomb kills defence attache, counsellor, 39 others
Kabul/New Delhi, July 7
India's defence attaché, a diplomat and three other staff members at its heavily fortified embassy in Kabul were among the 41 persons killed today, after a suicide bomber rammed an explosive-laden vehicle at the mission gates during the morning rush hour.

Afghan security force personnel assist survivors at the scene of the suicide bombing outside the Indian embassy in Kabul on Monday. — AFP
Editorial: Terror in Kabul

CAST YOUR VOTE
Should reality shows be monitored for abuse?

Advt
ASTROLOGER GANJAWALA
Marriage, Job, Immigration, Foreign Tour, Business, Solve with Sidh Hindu Remedies.
+91-98155-95108 (INDIA)


CHANDIGARH

LUDHIANA

BATHINDA

JALANDHAR

DELHI

HIMACHAL PLUS

HARYANA PLUS

JALANDHAR PLUS

AMRITSAR PLUS

LIFESTYLE

BRIDES WANTED

GROOMS WANTED

OTHERS

HOW TO PLACE ADVTS
India rushes team to Kabul
New Delhi, July 7
India today strongly condemned the terror attack at its embassy in Kabul as strategic experts warned that Indian missions abroad could well become soft targets for the Pakistan's ISI if proper lessons were not drawn from the incident in Afghanistan.



US, Pak condemn attack
Kabul Blast
Friends remember Venkat; 'he was like a son to us'
Chandigarh, July 7
A suicide attack on the Indian Embassy in Kabul this morning rattled a family's peace of mind in New Delhi. A 1990-batch Indian Foreign Service officer, Venkateshwara Rao, Venkat to friends and family, was killed in the attack along with 41 others.



Brig's family was in Kabul when Taliban struck


Brig Mehta had warned of attack in May


Shimla link


In Haryana Plus today
In Education Tribune today

E - Revolution 2005:
A Two-day IT conclave

Assembly Elections - 2005

Turbans

Chandigarh is 50

125 Years of The Tribune
India: The Tasks Ahead

India at Sixty
A Tribune Supplement

EARLIER FEATURES
We are going to Vienna 'very soon', says PM
Onboard PM's Aircraft, July 7
Unfazed by the Left parties' threat to withdraw support to his government, Prime Minister Manmohan Singh today announced that India would "very soon" approach the IAEA for a nuclear safeguards agreement, a process he expects to move "very fast".
Kaul Singh HPCC chief
New Delhi, July 7
In a move to mollify senior leader and former Himachal Pradesh chief minister Virbhadra Singh, the Congress today named him in the campaign committee for parliamentary elections. Virbhadra's close political associate Kaul Singh Thakur was handpicked to replace Viplove Thakur as the chief of Himachal Pradesh Congress Committee.


Haryana Plus
As part of our expansion plans and to serve the reader better, we have decided to publish Haryana Plus hereafter twice a week, on Tuesdays and Fridays. Beginning today, copies will be distributed along with the Haryana edition of the paper.
— H.K. Dua
Editor-in-Chief
Student from Kaithal dies rafting
Company, headed by father of shooter Jaspal Rana, accused of violating rules
Dehra Dun, July 7
A student of Indian Institute of Technology, Delhi, has died following alleged violation of rules by a rafting company run by Narayan Singh Rana, a former BJP minister in the interim government of Uttarakhand, and father of ace shooter Jaspal Rana.
HOROSCOPE
Vigilance not satisfied with Amarinder's answers
July 7, 2008
Clashes over Srinagar shrine fire, 30 injured
July 6, 2008

Thank you, Mulayamji


July 5, 2008
Good for us: Kalam
July 4, 2008
PM must address nation: SP
July 3, 2008
UPA close to getting Mulayam's support
July 2, 2008
PM offers to face House
July 1, 2008
Left refuses to budge
June 30, 2008

PDP pulls out over land row
June 29, 2008

Sensex falls 619 points
June 28, 2008