Tuesday, July 22, 2008, Chandigarh, India
Updated at 8:45 pm (IST)

Breaking News
Manmohan GOVT WINS TRUST VOTE
Votes in favour: 275
Votes against: 256
Abstentions: 10
---
Delhi Test
Manmohan bats with confidence
Lifeline: Mamata decides to abstain.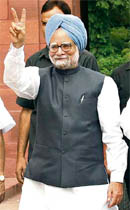 Ditto 10 others from NDA?
New Delhi, July 21
With a determined Opposition making a valiant attempt to dislodge the 50-month-old UPA regime, the scene of action shifted to Parliament today where Prime Minister Manmohan Singh sought a trust vote in the Lok Sabha following the withdrawal of support to his government by the Left parties over the Indo-US nuclear deal.



Editorial: Advantage Mayawati

A confident-looking Manmohan Singh arrives for the special session of Parliament in New Delhi on Monday. — A Tribune photograph

N-Deal
8-member team ready for whirlwind tour
New Delhi, July 21
Confident about sailing through tomorrow's trust vote in the Lok Sabha, the UPA government has set up a high-powered eight-member team which is all set to tour the 45 countries of the Nuclear Suppliers Group (NSG) to hardsell the Indo-US civil nuclear agreement to them.
US ready to work with minority govt
Washington, July 21
Ahead of the crucial trust vote that will decide the fate of the UPA government, the US said today that it would move forward on the nuclear deal with any dispensation in New Delhi-even if it was in minority.