Climate change in Hindu Kush Himalayas
Scientists call for devising joint strategy
Mandi, December 30
Scientists from different countries in the Hindu Kush Himalayas (HKH), the world's "third largest water tower", have urged the political leaders of the HKH countries, including India, China, Pakistan, Afghanistan, Nepal and Myanmar, to evolve a consensus on devising joint strategy to tackle the "climatic change", which is impacting the economy and life of the people living in this region in a big way.
vignettes
Akashvani Bhawan stands on ashes of Himachal Dham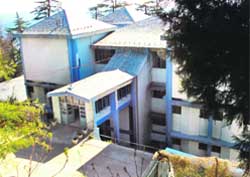 The present Akashvani Bhawan built in 1975 stands on the ashes of Himachal Dham that housed the Himachal Pradesh Secretariat on the formation of the state. Himachal Dham, burnt in 1956, was known as Foreign Office during the British times and its architect was Henry Irwin. He was in Shimla from 1881 to 1888 and had designed many buildings that still exist.


A view of Akashwani Bhawan in Shimla.
shimla diary
VVIPs' visits cause insconvenience to tourists
Shimla, December 30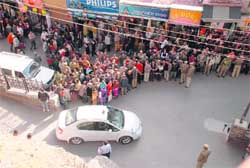 The visit of VVIPs can be quite a spoiler for the common man. With the completion of one year of the Dhumal regime on December 30, coinciding with the New Year celebrations, the rally on the Ridge was quite a damper for the thousands of tourists who are here for a holiday.


Heavy security in view of the BJP rally dampens the spirit of New Year revellers in Shimla. Tribune photo: Amit Sharma
HIMUDA colony residents rue poor civic anemities
Shimla, December 30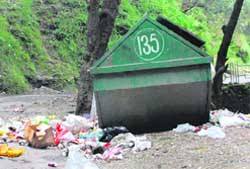 Recently developed colony of New Shimla set up by the Himachal Pradesh Urban Development Authority (HIMUDA) has failed to emerge as a well planned area with basic civic amenities of modern living.





Garbage scatters around a refuse collector in Shimla. Tribune photo: Amit Sharma
APPD Assembly in Vietnam
State Cong leader leads Indian delegation
Nurpur, December 30
Congress leader and former MP Sat Mahajan has recently led Indian delegation of five MPs in the ninth general assembly of the Asian Forum of Parliamentarians of Population and Development (APPD) in Vietnam.