Development eludes Chamba
Chamba, December 23
Set in the salubrious climate and magnificent prospect, Chamba is endowed with vast hydropower and tourism potential as well as rich forest wealth. The availability of perennial assets like forest wealth with plenty of medicinal herbs, wildlife, hydroelectric and tourism potential provide a wide scope for the development and promotion of these major industries.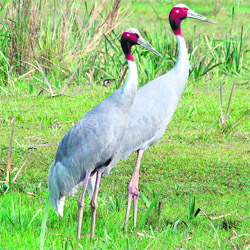 Sarus crane losing habitat
Dharamsala, December 23
The endangered bird species, Indian sarus crane is losing its habitat in the state. The said bird variety is found in the wetlands of the Swan river in Una district. Prabhat Bhatti, an amateur ornithologist, has been keeping watch over the sarus cranes visiting the Swan wetland since last many years. Talking to The Tribune, he said about 16 pairs of sarus crane used to visit the wetland areas of the Swan near Santoshgarh area of the district.
A pair of the endangered sarus crane in the wetlands of the Swan river in Una district. A Tribune photograph

Vignettes
The Clarke's roller-coaster ride to fame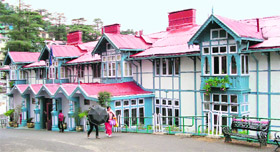 Mohan Singh Oberoi (MS) was the proprietor of The Clarke's Shimla and Delhi in 1934. He said to his daughter Rajrani, "Just wait, when you grow up, wherever you go, there will be an Oberoi hotel". Today, with about 35 luxury hotels in India and five in other countries, his words echo loud and clear. MS is to India what Conrad Hilton is to the US.
Herbal state
Not much headway in efforts
Shimla, December 23
Efforts of the government to make Himachal Pradesh the herbal state of the country are not making much headway because of the lack of a comprehensive policy for the propagation of medicinal plants, particularly on non-forest land.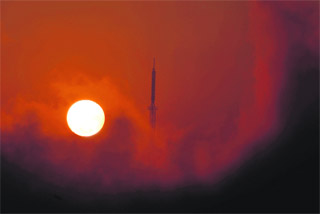 A view of sunset in Shimla. Tribune photo: Amit Sharma

Shimla diary
Wait for two Cabinet vacancies continues
Shimla, December 23
Even as the BJP regime in the state completes one year in office on December 30, the wait for filling two vacancies in the cabinet continues for aspirants.
Getting recognition for farming achievements
Hamirpur, December 23
A progressive farmer from the district has not only become a role model for many other farmers of the area, but has also won several awards for his produce from government agencies.
Residents seek regularisation of houses
Mandi, December 23
For over 60,000 residents awaiting regularisation of their houses, 'unauthorised houses' in the eyes of the government across the state, the proposed sixth retention policy has turned out to be another "pre-election eyewash." They instead demand a one-time relaxation on an "as and where basis."