PUNJAB
HARYANA
JAMMU & KASHMIR
HIMACHAL
REGIONAL BRIEFS
NATION
OPINIONS
LETTERS
BUSINESS
SPORTS
WORLD
Advt
Own the most prestigious address in Ludhiana.
Exclusive residential
Studio Apartments / Villas & Plots at reasonable prices. For details contact: 9815007979, 9815000122

Friday, May 8, 2009, Chandigarh, India
Updated at 3:00 am (IST)

57% polling in Ph IV
5 killed in violence in West Bengal, Rajasthan
New Delhi, May 7
An estimated 57 per cent of the voters today cast ballots in the fourth and penultimate round of polling in the general elections, amid claims by both the Congress and the BJP that they would emerge as the single largest group in what is widely expected to be a hung Lok Sabha.
Heavy turnout in Malwa
Majithia under EC scanner for 'firing in air'
Chandigarh, May 7
Paramilitary forces coupled with the will of Punjabis to cast their votes fearlessly won the day for Punjab with elections to the four parliamentary constituencies of Patiala, Sangrur, Bathinda and Ferozepur recording a poll percentage of 68 per cent even as sporadic incidents of violence left more than 20 persons injured.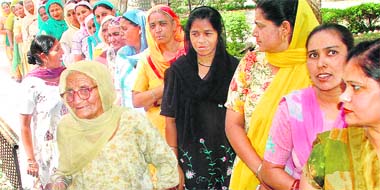 Women stand in a queue to cast their vote outside a polling booth in the Sangrur Lok Sabha constituency on Thursday. Tribune photo: Manoj Mahajan
CAST YOUR VOTE
Should teachers who give corporal punishment be sent to jail?

BRIDES WANTED
GROOMS WANTED
OTHERS
HOW TO PLACE ADVTS
EDUCATION
JOBS & CAREERS
HEALTH & FITNESS
SCIENCE & TECHNOLOGY
REAL ESTATE
SPORTS
TRIBUNE CLASSIFIEDS
A relaxed Malwa seals fate of its MPs
Chandigarh, May 7
It was more of a holiday than a polling day for the Malwais as they chose forenoon and late afternoon to exercise their franchise to seal the fate of 70-odd contestants for four Lok Sabha seats from their region.
64 pc vote in Haryana
Chandigarh, May 7
Haryana broke the trend of low polling witnessed during the first three phases of General Election this year in certain states when it reported about 64 per cent voter turnout for the 10 Lok Sabha seats today.
No voting despite I-cards
Chandigarh, May 7
A large number of voters across the state complained that they could not vote despite possessing voter identity cards. They reached the polling booths but returned disappointed when they found that their names had been struck off from the electoral rolls.
Low polling in Srinagar
Srinagar, May 7
While situation remained overall peaceful and incident free, the Srinagar Lok Sabha constituency recorded about 24 per cent of polling in the fourth phase today amid bandh in the Kashmir valley on the call of separatists.
NDA 60 Glorious Years
1857 The First Challenge
E - Revolution 2005:
A Two-day IT conclave
Assembly Elections - 2005
Turbans
Chandigarh is 50
125 Years of The Tribune
India: The Tasks Ahead
India at Sixty
A Tribune Supplement
EARLIER FEATURES
Dismiss Maya govt, have my support: Mulayam
New Delhi, May 7
Faced with a piquant situation after Samajwadi Party president Mulayam Singh made it clear that he would only support the party that promised to dismiss Bahujan Samaj Party (BSP) chief Mayawati's "unconstitutional" government in Uttar Pradesh, the Congress party on Thursday tried to play safe on the issue.
Challenges remain: Hillary
Persuading Pakistan about the urgency to shift focus to the real problem of Taliban
President Barack Obama's administration appears to have made little headway in persuading the Pakistani government about the urgency to shift focus away from a perceived threat from India toward a more real problem of the Taliban.


Editorial: Obama to Zardari


'Decisive' offensive against Taliban
14 militants, including a son of a hardline cleric, killed
Islamabad, May 7
Pakistan tonight announced a fresh "decisive" military offensive against the Taliban and pressed ahead with air and ground operation in northwestern tribal belt where fierce fighting killed nine soldiers and 14 militants, including a son of a hardline cleric who negotiated the Swat peace deal.
Obama holds talks with Zardari, Karzai
May 7, 2009
Rahul rattles NDA, upsets allies
May 6, 2009
Nepal PM Prachanda quits
May 5, 2009
Maoists sack army chief
May 4, 2009
UPA will return to power: PM
May 3, 2009
SC lifts stay on trial of Gujarat riots cases
May 2, 2009
Taliban raze eleven houses of Sikhs
May 1, 2009
Screening of international passengers begins
April 30, 2009
Clearance to Quattrocchi challenged in apex court
April 29, 2009
Probe Modi's role in Godhra riots: SC
April 28, 2009