PUNJAB
HARYANA
JAMMU & KASHMIR
HIMACHAL
REGIONAL BRIEFS
NATION
OPINIONS
LETTERS
BUSINESS
SPORTS
WORLD
Wednesday, December 2, 2009, Chandigarh, India
Updated at 3:00 am (IST)

Obama calls up PM, discusses Af-Pak
New Delhi, December 1
Just a week after the leaders met in Washington, US President Barack Obama telephoned Prime Minister Manmohan Singh this morning to discuss his Afghanistan-Pakistan strategy and the forthcoming UN summit on climate change to be held in Copenhagen.


Holds video conference with Karzai

Editorial : Growth picks up speed
CAST YOUR VOTE
Has the level of security improved a year after the 26/11 terrorist attack?

EDUCATION
JOBS & CAREERS
HEALTH & FITNESS
SCIENCE & TECHNOLOGY
REAL ESTATE
SPORTS
World AIDS Day
Focus on early diagnosis of HIV in infants
700 centres to come up across India next year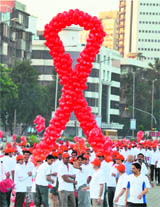 New Delhi, December 1
On the 21st World AIDS Day today, India has some reason to rejoice. The good news is that children, the most vulnerable of all to the epidemic, are now much higher on AIDS agenda in the country, with the government receiving extended support from the Global Fund for Prevention of Parent to Child Transmission.

Doctors participate in a walkathon as part of an awareness drive to mark the day in Mumbai on Tuesday. ó PTI

Nation Page: Sonia flags off second phase of Red Ribbon Express
Hooda takes umbrage at Badalís stance
Says HC building can be shared
Chandigarh, December 1
Haryana Chief Minister Bhupinder Singh Hooda said here today that it was the constitutional right of the people of the state to have a high court of their own in Chandigarh, which was the capital of the state.
4 jawans killed in battery blast
Jalandhar, December 1
Four Army personnel of the Motor Transport Section of 20 SATA battalion were killed when the battery they were recharging exploded in the Jalandhar Cantonment area around 8.30 p.m. this night.
Advt
NDA 60 Glorious Years
1857 The First Challenge
E - Revolution 2005:
A Two-day IT conclave
Assembly Elections - 2005
Turbans
Chandigarh is 50
125 Years of The Tribune
India: The Tasks Ahead
India at Sixty
A Tribune Supplement
EARLIER FEATURES
On Sundays
On Saturdays
Raoís flip-flop on fast triggers confusion
Footage shows TRS chief taking juice; party dubs it a govt plot; itís a letdown, feel students
Hyderabad, December 1
The maverick Telangana protagonist K Chandrasekhar Raoís flip-flop on his much-publicised fast has led to confusion in Andhra Pradesh political circles. Barely a day after calling off his indefinite fast on the advice of doctors following deterioration of health condition, Rao, the president of Telangana Rashtra Samithi (TRS), changed his mind and announced today that he would continue the hunger strike demanding creation of separate Telangana state.
Scribes can make world better: Prez
Hyderabad, December 1
Noting that journalists have a stake in building a better and safer world, the President Pratibha Patil today advised them to strike a balance between portrayal of negative and positive happenings in the society. ďThere is a tendency in some sections of media to focus excessively on news which is negative.


Pak editor: Media a spoiler in Indo-Pak ties
Free power to go in Punjab but subsidy to continue
Chandigarh, December 1
The two-member committee comprising Deputy Chief Minister Sukhbir Badal and Industries Minister Manoranjan Kalia has reached a broad consensus on the issue of subsidies. All modalities were worked out at a meeting between the two early today after which Chief Minister Parkash Singh Badal was also informed. However, the government has decided to withhold the report for now in view of the forthcoming Winter Session of the Vidhan Sabha.
TODAY'S SPECIALS
HIMACHAL PLUS

J&K PLUS

JALANDHAR PLUS

AMRITSAR PLUS

JOBS & CAREERS

HEALTH & FITNESS

Question Hour cut short as MPs play truant
December 1, 2009
Reprocessing deal likely in 10 days
November 30, 2009
PM turns the heat on developed nations
November 29, 2009
China boost to Pak military troubles India
November 28, 2009
Parliament resolves to defeat terrorism
November 27, 2009
Wonít rest till attackers are punished, says PM
November 26, 2009
Vajpayee, Advani, Joshi indicted
November 25, 2009
Pak has not done enough: PM
November 24, 2009
Twin blasts rock Assam
November 23, 2009
26/11: Italy arrests 2 for aiding attackers
November 22, 2009
Cane standoff ends after govt relents
November 21, 2009