PUNJAB
HARYANA
JAMMU & KASHMIR
HIMACHAL
REGIONAL BRIEFS
NATION
OPINIONS
LETTERS
BUSINESS
SPORTS
WORLD
Friday, April 16, 2010, Chandigarh, India
Updated at 3:00 am (IST)

Finally, PSEB is history
* Replaced by two state-owned companies
* Bureaucrat to head units during transition
Chandigarh, April 15
Punjab today dissolved the Punjab State Electricity Board (PSEB) and replaced it with two state-owned companies, which will be managed by a six-member committee till the new companies become operational.


Punjab page: Day 1 of strike passes off peacefully
Naxals: United we stand, Oppn tells govt
New Delhi, April 15
Parliament today witnessed a broad consensus among disparate forces to tackle the threat arising out of the growing Maoist influence in vast tracts of the country, with most members cutting across party lines demanding firm action against rebels.
CAST YOUR VOTE
Should politicians be allowed to withdraw so-called vendetta cases against MLAs?

EDUCATION
JOBS & CAREERS
HEALTH & FITNESS
SCIENCE & TECHNOLOGY
REAL ESTATE

SPORTS & WELLNESS
GSLV-D3 crashes into Bay of Bengal
Sriharikota (AP), April 15
The first test flight of India's indigenously developed cryogenic upper stage was "not successful" as the vehicle lost control 293 seconds after the launch and crashed into the Bay of Bengal.
Global economic recovery process still fragile: PM
Brasilia, April 15
Warning that the process of global economic recovery was "still fragile and uneven" though the "critical phase" was over, Prime Minister Manmohan Singh today pitched for greater focus on investments in infrastructure and inclusive growth to create new sources of growth.
'India, China not competitors'


Prime Minister Manmohan Singh waves as he stands with Brazil's President Luiz Inacio Lula da Silva at Itamaraty Palace in Brasilia on Thursday. — PTI
UNION BUDGET 2010-11
RAILWAY BUDGET
2010-11
NDA 60 Glorious Years
1857 The First Challenge
E - Revolution 2005:
A Two-day IT conclave
Assembly Elections - 2005
Turbans
Chandigarh is 50
125 Years of The Tribune
India: The Tasks Ahead
India at Sixty
A Tribune Supplement
EARLIER FEATURES
On Sundays
On Saturdays
Videocon chairman keen on joining IPL
Chandigarh, April 15
The Indian Premier League may be in news for all the wrong reasons these days, but that has not deterred Videocon Group, one of the leading trade houses in the country, from considering the sport a viable business option.
For Sania bhabhi from Pak: A golden crown
Reception sees a perfect display of Indo-Pak bonhomie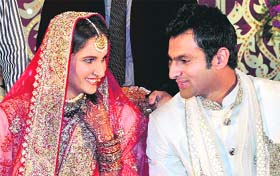 Hyderabad, April 15
The Indo-Pak bilateral relations may still be frosty but there is enough warmth in the hearts of people on either side of the border.


A Tribune Exclusive
Strength of Cobalt-60 sources alarming
Highest radioactive source strength ever found in public domain in India
New Delhi, April 15
In a development that should bother radioactive waste regulators in India, scientists working on the nature of Cobalt-60 sources detected in the capital over the last week have found the strength of these sources to be unacceptably high and dangerous for human health.
PM: Talks with Pak only after action against 26/11 culprits
April 15, 2010
Zero-tolerance for illicit N-trade: PM
April 14, 2010
India to set up global nuclear centre
April 13, 2010
Obama's high-wire act to prevent nuclear terror
April 12, 2010
Polish Prez, wife among 97 killed in air crash
April 11, 2010
Buck stops at my desk: Chidambaram
April 10, 2010
US, Russia ink pact to cut N-arsenal
April 9, 2010
If this is war, we will fight back, says PC
April 8, 2010
Bloodbath by Naxals
April 7, 2010
Mamata joins the Yadavs, pitches in for sub-quota
April 6, 2010