PUNJAB
HARYANA
JAMMU & KASHMIR
HIMACHAL
REGIONAL BRIEFS
NATION
OPINIONS
LETTERS
BUSINESS
SPORTS
WORLD
Tuesday, May 4, 2010, Chandigarh, India
Updated at 3:00 am (IST)

Verdict out, Kasab guilty
n All 86 charges proved
n Saeed, Lakhvi & Hamza among 20 others held guilty
n Fahim Ansari, Sabauddin acquitted
n Hearing on quantum of sentence today
Mumbai, May 3
Mohammed Ajmal Amir alias Kasab, the lone Pakistani terrorist to be taken alive during the Mumbai terror attack, has been found guilty of all 86 charges, including mass murder and waging war against the nation.


Acquitted, but Ansari & Ahmed canít walk free

Good news, says Lakhviís counsel

Editorial: Kasabís conviction

Pak must read the message, says PC
New Delhi, May 3


Within hours of a special court in Mumbai convicting Mohammad Ajmal Kasab for the Mumbai carnage, Union Home Minister P Chidambaram today said it sends a message to Pakistan to stop ďexporting terror to IndiaĒ.


Verdict to up pressure on Pak: Experts
CAST YOUR VOTE
Should India and Pakistan resume composite dialogue?

EDUCATION
JOBS & CAREERS
HEALTH & FITNESS
SCIENCE & TECHNOLOGY
REAL ESTATE

SPORTS & WELLNESS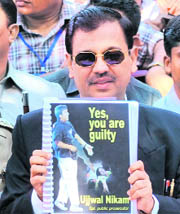 Special public prosecutor Ujjawal Nikam shows copy of the verdict in 26/11 case in Mumbai on Monday. ó PTI
Nothing less than death for Kasab: Martyrsí kin
Mumbai, May 3
ďKasab should be hanged,Ē wife of Vijay Salaskar, who was killed while fighting terrorists during the 26/11 terror attack, said here today.
From a school dropout to the face of modern terror
Mumbai, May 3
Mohammed Ajmal Amir Kasab, the lone surviving gunman in the Mumbai terror attack held guilty today, is a school dropout who saw 'jihad' as a purpose of his life.


Kasab emotionless

Police didnít reach Cama on time: Court
UNION BUDGET 2010-11
RAILWAY BUDGET
2010-11
NDA 60 Glorious Years
1857 The First Challenge
E - Revolution 2005:
A Two-day IT conclave
Assembly Elections - 2005
Turbans
Chandigarh is 50
125 Years of The Tribune
India: The Tasks Ahead
India at Sixty
A Tribune Supplement
EARLIER FEATURES
On Sundays
On Saturdays
Crackdown on loan defaulters
Arrest warrants against 1,500 farmers; 6 held
Chandigarh, May 3
The crackdown on farmers defaulting on agriculture development bank loans in the cotton belt in Punjab has begun with the first set of six farmers being arrested from Deputy Chief Minister Sukhbir Singh Badalís constituency of Jalalabad in Ferozepur district today.
Soon, common law for all three services
New Delhi, May 3
In a move that will remove variations in the law governing the three forces ó the Army, The IAF and Navy ó Defence Minister AK Antony today said the government was considering a common law to govern the three services.


No let up in prices of tuhar, urad dal
Despite fresh arrivals, pulses beyond reach


Chandigarh, May 3
The quintessential dinner dish in most homes, pulses, continues to remain out of reach for the common man. Though the new crop of pulses has arrived and the government too has released pulses in the open market, prices of pigeon pea (tuhar) and urad are still on the boil.
Gill applies brakes on tenure of Kalmadi & Co
May 3, 2010
Bottlenecks for access to Headley cleared
May 2, 2010
2 CRPF jawans held for selling arms to Naxals
May 1, 2010
Summit leads to thaw in Indo-Pak ties
April 30, 2010
Jharkhand heads for Presidentís Rule
April 29, 2010
UPA bulldozes Oppnís cut motions
April 28, 2010
Amarinderís expulsion quashed by SC
April 27, 2010
IPL final sees Modiís ouster
April 26, 2010
Modi lobbies for support as BCCI plans his ouster
April 25, 2010
Oppn wants JPC probe into IPL
April 24, 2010