PUNJAB
HARYANA
JAMMU & KASHMIR
HIMACHAL
REGIONAL BRIEFS
NATION
OPINIONS
LETTERS
BUSINESS
SPORTS
WORLD
Saturday, May 8, 2010, Chandigarh, India
Updated at 3:00 am (IST)

Mukesh wins gas battle against Anil in SC
Court tells Ambanis to renegotiate price
New Delhi, May 7
In a verdict that clearly went in favour of Mukesh Ambani-led Reliance Industries Ltd (RIL), the Supreme Court today ruled that the family agreement between Mukesh and his brother Anil on gas supply and price had no legal value and directed their companies to renegotiate and finalise the price within three months.


Business page: RNRL plunges 23%, RIL gains 2.27%
Congress bites the bullet of caste census
Decision soon, PM assures House
New Delhi, May 7
There were indications on Friday that the government would allow caste census in the country , for the first time since 1931. Soon after the Prime Minister assured in the Parliament that the government would shortly take a decision, Congress trouble shooter Pranab Mukherjee told the media outside Parliament House that there would be no 'logistical problem' in adding one more column during the on-going census.


Editorial: Counting castes
CAST YOUR VOTE
Should India and Pakistan resume composite dialogue?

EDUCATION
JOBS & CAREERS
HEALTH & FITNESS
SCIENCE & TECHNOLOGY
REAL ESTATE

SPORTS & WELLNESS
SC: Centre can't sack Governors arbitrarily
New Delhi, May 7
In a path-breaking judgment, the Supreme Court today ruled that Governors cannot be removed with the change of power at the Centre or for refusing to act as government's "agent" and for being out of sync with its ideology.
Barring excise, sops may stay in hill states
Chandigarh, May 7


Industry set up in hill states will now have to pay central excise duty, though they can continue to enjoy income tax exemptions and capital investment subsidy. An indication to this effect was given by Union Minister of Commerce and Industry Anand Sharma here today.
Special to the tribune
After 36 yrs, it's hung House in Britain
LibDem Nick Clegg emerges kingmaker; heavy turnout
Britain has woken up to a hung Parliament, an election outcome that this country last experienced in 1974 when the then Prime Minister Edward Heath tried and failed to persuade the Liberal Party to join him in a coalition.


NRIs script history

Brown baiter Sood bites dust
Today's Specials
REAL ESTATE

AMRITSAR PLUS

J&K PLUS

SPORTS & WELLNESS

UNION BUDGET 2010-11
RAILWAY BUDGET
2010-11
NDA 60 Glorious Years
1857 The First Challenge
E - Revolution 2005:
A Two-day IT conclave
Assembly Elections - 2005
Turbans
Chandigarh is 50
125 Years of The Tribune
India: The Tasks Ahead
India at Sixty
A Tribune Supplement
EARLIER FEATURES
On Sundays
On Saturdays
Srinagar welcomes the topper home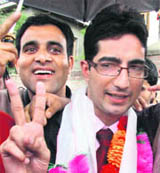 Srinagar, May 7
Hundreds of people, some of them complete strangers, gave Shah Faisal, the first Kashmiri to top the list of successful candidates in the civil services examination conducted by the UPSC, a warm and emotional welcome at the Srinagar airport today.


Hero's Welcome: Shah Faisal, the first Kashmiri to top the Civil Services examination, arrives at his Srinagar home on Friday. Tribune photo: Amin War

Sibal restores MP quota in KVs; gives up own
New Delhi, May 7
After being hooted down in Parliament for scrapping the MP quota in admissions to Kendriya Vidyalayas (KVs), Human Resources Development Minister today said he had restored the said quota. The minister, however, has abandoned his own MP quota of two admissions to KVs per year and the quota of 1,200 seats he gets as HRD Minister.
Gallows for Kasab
May 7, 2010
No lie detector tests: SC
May 6, 2010
Kasab's head, nothing less, says prosecution
May 5, 2010
Verdict out, Kasab guilty
May 4, 2010
Gill applies brakes on tenure of Kalmadi & Co
May 3, 2010
Bottlenecks for access to Headley cleared
May 2, 2010
2 CRPF jawans held for selling arms to Naxals
May 1, 2010
Summit leads to thaw in Indo-Pak ties
April 30, 2010
Jharkhand heads for President's Rule
April 29, 2010
UPA bulldozes Oppn's cut motions
April 28, 2010