PUNJAB
HARYANA
JAMMU & KASHMIR
HIMACHAL
REGIONAL BRIEFS
NATION
OPINIONS
LETTERS
BUSINESS
SPORTS
WORLD
Wednesday, May 12, 2010, Chandigarh, India
Updated at 3:00 am (IST)

Krishna to visit Pak
* Anticipates 'meaningful' dialogue with Qureshi on July 15
* Prior to that, Chidambaram to visit Islamabad on June 26
New Delhi, May 11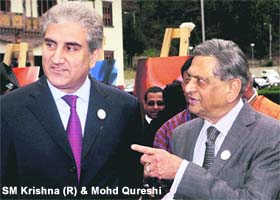 Taking a significant step towards the formal resumption of dialogue between their two countries suspended since the 26/11 Mumbai terror attacks, External Affairs Minister SM Krishna and his Pakistani counterpart Shah Mahmood Qureshi spoke to each other on telephone today.
Jindal draws flak from Cong
No bowing to khap pressure, says Moily

New Delhi, May 11
Union Law Minister Veerappa Moily on Tuesday ruled out amending the Hindu Marriage Act in order to accommodate the Khap Panchayat's demands. "We have suggested to amend the simple marriage act, not the Hindu Marriage Act," he added.
CAST YOUR VOTE
Should India and Pakistan resume composite dialogue?

EDUCATION
JOBS & CAREERS
HEALTH & FITNESS
SCIENCE & TECHNOLOGY
REAL ESTATE

SPORTS & WELLNESS
Brown quits, Cameron to take over


London, May 11
Gordon Brown resigned as Prime Minister of Britain today and said Conservative leader David Cameron would take over, ending 13 years of rule by the centre-left Labour Party. David Cameron


World page: Slow rise and abrupt fall of Brown
British Prime Minister Gordon Brown along with his wife Sarah and kids John and Fraser walks past 10 Downing Street in London after announcing his resignation on Tuesday.
— Reuters
Shivalik Hills up for grabs!
Land mafia felling trees to pave way for roads
Chandigarh, May 11
Eco-fragile Shivalik Hills in Chandigarh's periphery are up for sale! Sounds incredible but that's true. For, a handful of local politicians-turned-property dealers are, in a bid to make a fast buck, allegedly selling farmhouse sites after illegally carving roads through undulating hillocks that form the part of Punjab's protected forest cover.
UNION BUDGET 2010-11
RAILWAY BUDGET
2010-11
NDA 60 Glorious Years
1857 The First Challenge
E - Revolution 2005:
A Two-day IT conclave
Assembly Elections - 2005
Turbans
Chandigarh is 50
125 Years of The Tribune
India: The Tasks Ahead
India at Sixty
A Tribune Supplement
EARLIER FEATURES
On Sundays
On Saturdays
Voluble Jairam now wants to keep mum
New Delhi, May 11


A normally voluble Environment Minister Jairam Ramesh was surprisingly quiet on Tuesday as he refused to utter even one word on his recent statements on the government's policy on China and the political outcome thereof.


Emissions up, but way lower than US, China

Satellite to monitor situation
Muivah Visit
Pillai in Manipur to defuse crisis
Guwahati, May 11
The Centre today rushed Union Home Secretary GK Pillai to Manipur to hold discussions with senior government functionaries on the situation arising from the economic blockade by Naga students and NSCN-IM leader Thuingaleng Muivah's attempt to enter the state to visit his ancestral village.


Bill Gates offers to turn Amethi, Rae Bareli into IT hubs
Lucknow, May 11
Microsoft chairman Bill Gates today extended an invitation to the US to those who are willing to learn computers. During his visit to Amethi, in the midst of a scorching Indian summer, Gates promised to develop Congress MP Rahul Gandhi's constituency and neighbouring Rae Bareli represented by Congress president Sonia Gandhi as IT hubs.
Today's specials
AMRITSAR PLUS

HIMACHAL PLUS

JALANDHAR PLUS

J&K PLUS

JOBS & CAREERS

HEALTH & FITNESS
Higher Education Bill hits a bump
May 11, 2010
Chhattisgarh forests death traps: Police
May 10, 2010
BJP wins power tussle
May 9, 2010
Mukesh wins gas battle against Anil in SC
May 8, 2010
Gallows for Kasab
May 7, 2010
No lie detector tests: SC
May 6, 2010
Kasab's head, nothing less, says prosecution
May 5, 2010
Verdict out, Kasab guilty
May 4, 2010
Gill applies brakes on tenure of Kalmadi & Co
May 3, 2010
Bottlenecks for access to Headley cleared
May 2, 2010