PUNJAB
HARYANA
JAMMU & KASHMIR
HIMACHAL
REGIONAL BRIEFS
NATION
OPINIONS
LETTERS
BUSINESS
SPORTS
WORLD
Tuesday, May 25, 2010, Chandigarh, India
Updated at 3:00 am (IST)

Good ties with Pak to benefit India: PM
Says trust deficit blocking progress, India ready to discuss all issues as long as Pak territory not used for anti-India activities
New Delhi, May 24
Prime Minister Manmohan Singh today declared New Delhi's firm resolve to normalise relations with Pakistan if the neighbouring country showed sincerity in tackling terrorism emanating against India from its soil.
Promises to keep, so no plans to retire
But says he'll willingly step aside when Cong wants change in leadership
New Delhi, May 24
Clearly demonstrating that he is no push-over, Prime Minister Manmohan Singh today firmly asserted that he had no plans to retire as he had unfinished tasks to complete. But being a party loyalist, he was equally quick to state that he would be willing to step aside if the Congress favoured a change of leadership.


No differences

Rahul right choice
CAST YOUR VOTE
Should the execution of Ajmal Kasab's death sentence be put on fast track?

EDUCATION
JOBS & CAREERS
HEALTH & FITNESS
SCIENCE & TECHNOLOGY
REAL ESTATE
SPORTS & WELLNESS
Red Threat
Centre, states on same page: PM
New Delhi, May 24
Prime Minister Manmohan Singh today identified Naxalism as the biggest internal security challenge for his administration, dismissing the charge that the government underestimated the threat from Left-wing extremism. "I have been saying for the last three years that Naxalism remains the biggest internal security challenge facing our country," he said at a press conference to coincide with the UPA-II completing one year in office.
Spectrum Licences
Backs Raja, says he followed govt policy
New Delhi, May 24
Prime Minister Manmohan Singh today defended his Telecommunications Minister A Raja over the allegations of corruption in the granting of licences for the 2G spectrum in 2008.
UNION BUDGET 2010-11
RAILWAY BUDGET
2010-11
NDA 60 Glorious Years
1857 The First Challenge
E - Revolution 2005:
A Two-day IT conclave
Assembly Elections - 2005
Turbans
Chandigarh is 50
125 Years of The Tribune
India: The Tasks Ahead
India at Sixty
A Tribune Supplement
EARLIER FEATURES
On Sundays
On Saturdays
Advice from both Sonia, wife welcome, says Manmohan
New Delhi, May 24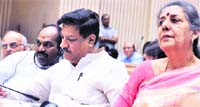 The question was very tricky and could have tripped Prime Minister Manmohan Singh, but the reply was as straight as the carefully played defensive shot of Sachin Tendulkar or any other great batsman.

Ambika Soni, Prithvi Raj Chauhan (centre) and Shiv Shankar Menon at Vigyan Bhawan in New Delhi on Monday. Tribune photo: Mukesh Aggarwal
6 Naxals held for Dantewada killings
Dantewada, May 24
In a major breakthrough, the Chhattisgarh police has arrested six persons, including self-styled Naxal commander Barsa Lakhma, who were allegedly involved in the gunning down of 76 security personnel here last month.


JMM loses BJP support, Cong ready to provide 'alternative'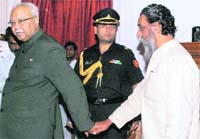 New Delhi, May 24
With the BJP having finally withdrawn support to the five-month-old Shibu Soren government in Jharkhand, the Congress appeared to be getting into the act, and ready to provide the "alternative."
Jharkhand Governor MOH Farooq with Chief Minister and JMM chief Shibu Soren before a meeting in Ranchi on Monday. The governor summoned Soren after his government was reduced to minority following the withdrawal of support by BJP. — PTI

Time for Re-alliance
May 24, 2010
Mangalore air crash kills 158
May 23, 2010
Miles to go
May 22, 2010
Won't quit, won't share power: Soren
May 21, 2010
The 3G bonanza
May 20, 2010
It's musical chairs in Jharkhand
May 19, 2010
Dantewada again, toll 36
May 18, 2010
Bangkok bleeds
May 17, 2010
Jihadis camping in PoK to sneak into India
May 16, 2010
3 Pakistani aides of NY bomb plotter held
May 15, 2010