PUNJAB
HARYANA
JAMMU & KASHMIR
HIMACHAL
REGIONAL BRIEFS
NATION
OPINIONS
LETTERS
BUSINESS
SPORTS
WORLD
Thursday, July 29, 2010, Chandigarh, India
Updated at 3:00 am (IST)

British PM ticks off Pak on terror export
n Backs India's claim for UNSC seat n Bags deal worth £500 m for UK firm
Bangalore, July 28


The British Prime Minister David Cameron asserted here today that Britain shared India's concern over Pakistan exporting terror. " We cannot tolerate in any sense the idea that this country is allowed to look both ways and is able to promote the export of terror, whether to India or Afghanistan or anywhere else in the world," he declared in response to a question while adressing techies and invited audience in the campus of IT major Infosys.


Editorial: Mr Cameron in India
Kachroo Ragging Case
High Court cancels bail granted to four accused
Shimla, July 28



The Himachal Pradesh High Court today cancelled the bail granted to the four accused in the Aman Kachroo ragging murder case. While cancelling the bail, the court set aside order of the Dharamsala fast-track court by terming it against law and directed the police to take them in custody.
CAST YOUR VOTE
Should Warren Anderson be extradited?

EDUCATION
JOBS & CAREERS
HEALTH & FITNESS
SCIENCE & TECHNOLOGY
REAL ESTATE
SPORTS & WELLNESS
Aman Kachroo's death
SC tough stance fails to check ragging
New Delhi, July 28
A year after Aman Kachroo's death due to ragging, the menace rages on, with the 2009-10 academic session witnessing the highest number of ragging cases and deaths in recent academic history.


Father hails HC verdict
Speaker disallows adjournment motion
Says govt has not failed to discharge constitutional, legal duties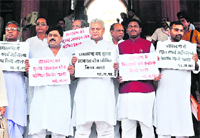 New Delhi, July 28
The Government had its way in Parliament today as Lok Sabha Speaker Meira Kumar rejected a united Opposition's demand for a vote on price rise affecting the common man.
BJP MPs hold placards demanding the declaration of famine in Jharkhand, in New Delhi on Wednesday. — AFP

Parliament impasse may end today

Editorial:Avoidable stalemate
UNION BUDGET 2010-11
RAILWAY BUDGET
2010-11

NDA 60 Glorious Years
1857 The First Challenge
E - Revolution 2005:
A Two-day IT conclave
Assembly Elections - 2005
Turbans
Chandigarh is 50
125 Years of The Tribune
India: The Tasks Ahead
India at Sixty
A Tribune Supplement
EARLIER FEATURES
On Sundays
On Saturdays
Amit Shah grilled by CBI, feigns memory lapse
Ahmedabad, July 28


Former Gujarat minister Amit Shah was on Wednesday quizzed by the Central Bureau of Investigation (CBI) here in connection with the 2005 killing of Sohrabuddin Sheikh but he feigned ignorance on many questions posed to him, sources said. A three-member CBI team, led by Superintendent Amitabh Thakur, began questioning Shah at the Sabarmati jail in the morning.
Dream big to achieve big
Patiala-born shows the way, owns 10 five-star hotels in Canada
Toronto, July 28
During the current global downturn when most businesses have put off expansion

plans, Canada's top Indian-origin hotelier Steve (Sudesh) Gupta, who owns 10 five-star hotels, is going ahead full steam."I am a contrarian. I create my own direction and niche. I do something totally different that the market doesn't have yet," says Patiala-born Gupta, who landed in Toronto with just $108 in his pocket in 1971 and today owns 10 four-star (five-star in India) in this country.
Showdown over price rise
July 28, 2010
MPs panel sees police hand
July 27, 2010
Shah surrenders before CBI
July 26, 2010
PM banks on monsoon to halve inflation
July 25, 2010
CBI charges Shah, top cops with murder
July 24, 2010
What a way to go!
July 23, 2010
Mayhem in Bihar House
July 22, 2010
With train driver dead, probe may yield little
July 21, 2010
63 dead in Bengal train collision
July 20, 2010
Maoists build a big army in Bastar
July 19, 2010