ART & LITERATURE
'ART & SOUL
ENTERTAINMENT
TELEVISION
GARDEN LIFE
NATURE
FOOD TALK
CONSUMER, BEWARE!
FASHION
GLOBOSCOPE
BRIDGE
ULTA-PULTA
EARLIER FEATURE
TRAVEL
RELATIONSHIPS
DREAM THEME
TIME OFF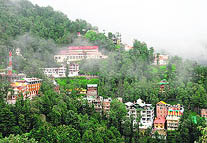 Dalhousie in distress
The scenic beauty of Dalhousie is being marred by haphazard growth, congestion and littering by tourists, writes Sanjeev Singh Bariana
THE sight of the piling vehicles and the sound of repulsive honking in Gandhi Chowk during a recent visit to Dalhousie, more than two decades after I passed out of Dalhousie Public School, was unsettling.

Fading charm
Aruti Nayar
BEFORE a visit to Dalhousie, after a span of more than 30 years, I had come across an interesting article on the Net with the headline "Ambarsarian da Switzerland," since numerous tourists from the Amritsar, Jalandhar and Gurdaspur region throng Dalhousie almost the year round.

---
A stitch in time
The art of making the Chamba rumal was all but extinct. The Delhi Council of Craft has revived the tradition, which has now given jobs to many poor persons in the hill town, reports Hemlata Aithani
A handkerchief is a handkerchief. But for the people of Chamba, a town in the mountain state of Himachal Pradesh, it is much more than that. In fact, it is an integral part of the local heritage, history, art and craft.


Love him as your child
All dogs require a lot of exercise and a good diet. Regular visits to the vet are also necessary, says Ajay Khullar
IT might wag its tail and wolf down its food, but if the dog or puppy you have kept in your city home could talk, you might not hear a happy tale.


So sweeeet!
Luohan guo, the sweetest fruit on earth, can be grown in North India, says Chiranjit Parmar
LUOHAN guo is the sweetest fruit on earth. It does not contain any sugar. This unique fruit was originally grown in southern China and northern Thailand. With time, the plant also travelled to a few more countries in the South-East Asia.


Romantic capital of Europe
Copenhagen is seeped in old-world charm. Its castles, palaces, museums, copper-roofed houses and cobbled streets co-exist happily with its ultra-modern amenities and entertainment options, writes Mukesh Khosla
DON'T just fall in love with Copenhagen. Just fall in love in Copenhagen", goes the catch line for the capital of Denmark. That it is also the romantic capital of Europe is apparent from the fact that it has a number of sights, especially for those in love.


Books back on TV
Literary works find new space on small screen, writes Radhika Bhirani
Remember Wagle Ki Duniya, Bharat Ek Khoj, Hasratein and other such fascinating television serials. All these were based on literary works and, after a long gap, the Indian television is again witnessing serials based on stories by noted Hindi as well as regional writers.


Colouring of Classics
As Hum Dono and Haqeeqat, classics of the 1960s, are set to be released in colour soon, Ranjan Das Gupta questions if the colourisation of a black and white print will spoil its originality
WHEN a Mumbai-based corporate offered to colour Ray's masterpiece, Pather Panchali in 2008, directors, artistes and technicians from Kolkata starting from Mrinal Sen to Goutam Ghosh to Prasenjit openly came out on the streets protesting such a move and supporting Ray's son Sandip Ray in preventing the colourisation of the classic.


Hollywood's 3D bubble bursts
Luohan guo, the sweetest fruit on earth, can be grown in North India, says Chiranjit Parmar
Hollywood's faith in the power of 3D movies to deliver a bright future of packed cinemas and spectacle-wearing audiences has been jolted by the box office figures that show the high-tech format may already be floundering.