PUNJAB
HARYANA
JAMMU & KASHMIR
HIMACHAL
REGIONAL BRIEFS
NATION
OPINIONS
LETTERS
BUSINESS
SPORTS
WORLD
Wednesday, August 11, 2010, Chandigarh, India
Updated at 3:00 am (IST)

Leh toll may touch 400
Admn faces uphill task of building houses before winter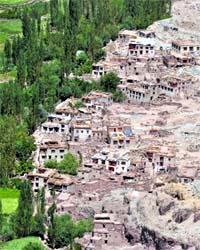 August 10
With five days already having passed after the cloudburst wreaked havoc in Leh, the frightening magnitude of the flash floods is unfolding slowly with time. While the death toll could mount up to 400, this too a conservative estimate, the administration may not be able to meet its rehabilitation targets before the onset of winters here.

An aerial view of the Choglamsar village on the outskirts of Leh on the Leh-Kargil highway on Tuesday. Tribune photo: Mukesh Aggarwal

PM: Autonomy for Kashmir if all parties agree
New Delhi, August 11
Expressing solidarity with the people of Kashmir, Prime Minister Manmohan Singh today chaired a marathon meeting of 20 leaders from the state and said the government was aware of the prevailing alienation in the Valley and the need to remove it.
CAST YOUR VOTE
Should Warren Anderson be extradited?

EDUCATION
JOBS & CAREERS
HEALTH & FITNESS
SCIENCE & TECHNOLOGY
REAL ESTATE
SPORTS & WELLNESS
| | |
| --- | --- |
| | PM Manmohan Singh and FM Pranab Mukherjee at the all-party meeting on Kashmir, in New Delhi on Tuesday. |
BBMB calls emergency meeting
Chandigarh, August 10
The Bhakra Beas Management Board (BBMB) has called an emergency meeting of the partner states for August 12 and is likely to forewarn Punjab that it may be forced to release water into the Sutlej in case the dam height reaches the danger mark this month.
Opposition puts govt on the mat
Mamata's allegation that Maoist leader was murdered angers BJP, Left
New Delhi, August 10
The Opposition put the UPA government on the mat today in both Houses over Railway Minister Mamata Banerjee's allegation that Maoist leader Azad was "murdered" in a fake encounter and her virtually asking the Centre to call off Operation Greenhunt against the Naxalites.
UNION BUDGET 2010-11
RAILWAY BUDGET
2010-11

NDA 60 Glorious Years
1857 The First Challenge
E - Revolution 2005:
A Two-day IT conclave
Assembly Elections - 2005
Turbans
Chandigarh is 50
125 Years of The Tribune
India: The Tasks Ahead
India at Sixty
A Tribune Supplement
EARLIER FEATURES
On Sundays
On Saturdays
Cong padyatra reaches Reddys' bastion
BJP to reply with big rally in Bellary on Aug 20
Bangalore, August 10
Ever since the high-voltage electoral contest between Congress chief Sonia Gandhi and BJP leader Sushma Swaraj in Bellary in 1999, the political climate in this Karnataka town, famous for its iron ore mines, has seldom remained quiet. The dusty mining town today once again occupied the political centrestage, albeit with a reduced stature since the fight this time round is essentially of state level.
SC sends Bofors records to trial court
New Delhi, August 10
The Supreme Court today returned the records relating to the Bofors payoff case to the trial court, which has to decide the CBI's plea for withdrawing the case against 70-year-old Italian businessman Ottavio Quattrocchi, an accused.
Just one 'Shera' for C'wealth Games!
New Delhi, August 10
The Commonwealth Games, nation's biggest sporting event to be held at 23 sprawling stadiums and in 21 disciplines, has only one 'Shera', the mascot of the Games, to raise the spirits of the supporters.


Chandigarh boy, Satish, who poses as 'Shera' during the Games organising committee's functions and ceremonies. Tribune photo: Manas Ranjan Bhui
Today's specials
HIMACHAL PLUS

J&K PLUS

JALANDHAR PLUS

AMRITSAR PLUS

HEALTH & FITNESS

JOBS & CAREERS
Ladakh: STILL bruised and battered
August 10, 2010
Scramble for flights at Leh
August 9, 2010
Cloudburst toll 132
August 8, 2010
112 dead in Leh flash floods
August 7, 2010
Clean-up begins, 3 officials suspended
August 6, 2010
PC backs Omar
August 5, 2010
Kalmadi feels the heat
August 4, 2010
No talks without peace, Omar to Valley hardliners
August 3, 2010
Valley bleeds as eight die in fresh clashes; over 60 hurt
August 2, 2010
Flood alert in Haryana again
August 1, 2010