PUNJAB
HARYANA
JAMMU & KASHMIR
HIMACHAL
REGIONAL BRIEFS
NATION
OPINIONS
LETTERS
BUSINESS
SPORTS
WORLD
Sunday, August 15, 2010, Chandigarh, India
Updated at 3:00 am (IST)

BREAKING NEWS
Cabinet defers decision on MPs' salary hike
New Delhi, August 16
The Union Cabinet today deferred a decision on hiking the salary and allowances of MPs, though the issue was discussed in detail.
Amarnath yatra resumes
Jammu, August 16
After remaining suspended for two days due to security reasons and bad weather conditions, the annual Amarnath yatra today resumed from here.
PM steps in to clean CWG mess
l Says those found guilty will face exemplary punishment l Gives power to panel of secretaries to supervise Games
New Delhi, August 14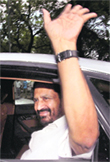 With controversies dogging the upcoming Commonwealth Games and doubts being raised about the state of preparations for it, Prime Minister Manmohan Singh called a high-level review meeting today and decided on a series of measures to fast-track the completion of pending projects through time-bound action plans to ensure the smooth conduct of the upcoming sporting event.
Kalmadi after attending the meeting with the PM. — PTI


CAST YOUR VOTE
Should Warren Anderson be extradited?


EDUCATION
JOBS & CAREERS
HEALTH & FITNESS
SCIENCE & TECHNOLOGY
REAL ESTATE

SPORTS & WELLNESS
Major who died saving 10 colleagues in Kabul gets Ashok Chakra
New Delhi, August 14
Major Laishram Jyotin Singh, who with bare hands fought with an armed terrorist and saved 10 colleagues during an attack on Indians in Kabul in February, has been posthumously given the Ashok Chakra, the highest peacetime gallantry award.


Roll of honour

1 killed in fresh Valley clashes
Srinagar, August 14
One person was killed and nearly 80 others were injured during fresh clashes between protesters, the police and the CRPF at different places in Kashmir today.
Kahlon's pre-arrest bail plea dismissed
Patiala, August 14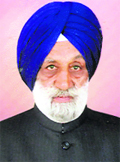 In connection with the alleged irregularities in the recruitment of 909 Panchayat Secretaries during the tenure of the SAD-BJP government from 1997 to 2002, the Court of Special Judge (CBI Cases) Balbir Singh today dismissed the anticipatory bail application of the Punjab Assembly Speaker, Nirmal Singh Kahlon.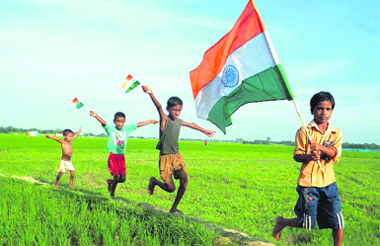 The Tribune wishes its readers a happy Independence Day: Children run with the Tricolour to celebrate the 64th Independence Day at a paddy field at Balurghat in West Bengal on Saturday. — PTI
UNION BUDGET 2010-11
RAILWAY BUDGET
2010-11

NDA 60 Glorious Years
1857 The First Challenge
E - Revolution 2005:
A Two-day IT conclave
Assembly Elections - 2005
Turbans
Chandigarh is 50
125 Years of The Tribune
India: The Tasks Ahead
India at Sixty
A Tribune Supplement
EARLIER FEATURES
On Sundays
On Saturdays
Free land, permanent shelter for Leh flash flood victims
In a significant decision, that will help the Leh flood victims piece together their battered lives, the Ladakh Autonomous Hill Development Council today announced free allocation of land to displaced families and also permanent shelters to those whose houses have been washed away in the August 6 tragedy.
Border Road Organisation personnel and local volunteers try to stop the overflowing water at Taru Thang near Leh on Saturday. — PTI
Hope walks into despair in Leh
Twin lifelines open; Army, civil trucks bring in crucial supplies
Hope followed despair into Leh today as the city's bruised lifelines — the Leh-Kargil and Leh-Manali highways — were thrown open for traffic for the first time since the flash floods of August 5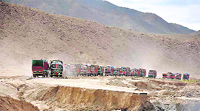 and 6 devastated the slumbering city. Only yesterday, the sudden downpour alarmed the residents, who just abandoned their houses and rushed to the hilltops for safety.
The Leh-Kargil-Srinagar and Leh-Manali highways were thrown open to traffic on Saturday. Tribune photo: Anand Sharma

300 tonne explosive missing
August 14, 2010

Now you can keep your cell number
August 13, 2010

Indian superbug threatens world
August 12, 2010

Leh toll may touch 400
August 11, 2010

Ladakh: STILL bruised and battered
August 10, 2010

Scramble for flights at Leh
August 9, 2010

Cloudburst toll 132
August 8, 2010

112 dead in Leh flash floods
August 7, 2010

Clean-up begins, 3 officials suspended
August 6, 2010

PC backs Omar
August 5, 2010

Kalmadi feels the heat
August 4, 2010

No talks without peace, Omar to Valley hardliners
August 3, 2010