PUNJAB
HARYANA
JAMMU & KASHMIR
HIMACHAL
REGIONAL BRIEFS
NATION
OPINIONS
LETTERS
BUSINESS
SPORTS
WORLD
Sunday, October 10, 2010, Chandigarh, India
Updated at 3:00 am (IST)

Sukhbir asks Manpreet 'where is the offer'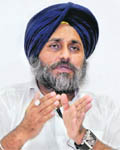 In an exclusive interview to The Tribune, Punjab's Deputy CM pins Manpreet Badal down on the issue of debt waiver by the Centre and asserts that only the party can decide about doing away with subsidies
Punjab's Deputy Chief Minister Sukhbir Singh Badal has been in the eye of the storm ever since his cousin Manpreet openly aired his differences with him over the purported offer by the Central Government to the conditional waiver of part of the state's burgeoning debt.
(The Tribune interview on Opinion page)
Watch a video recording of the interview here tv.htm

Punjab page: I'll quit if CM wants it, says Manpreet

SAD district chiefs support Sukhbir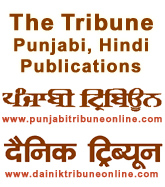 EDUCATION
JOBS & CAREERS
HEALTH & FITNESS
SCIENCE & TECHNOLOGY
REAL ESTATE
SPORTS & WELLNESS
The great Debt debate
Empty treasury, but liberal in subsidies
Chandigarh, October 9
If the Centre has linked a drastic cut in the Punjab power subsidy from Rs 3,100 to Rs 1,000 crore in five years to avail the Rs 35,000-crore debt-waiver offer, the reason is the state's dismal performance on the power front. Power, it is widely recognised, is key to industrial and agricultural growth and its mismanagement cripples economic growth. (Details on Punjab page)
Gold Haul
Gagan 4, Vijay 3
New Delhi, October 9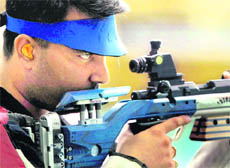 With the high-flying Indian marksmen --- Gagan Narang and Vijay Kumar --- in top form, more records are set to tumble at the Dr Karni Singh Shooting Range here. In fact, it seems, there's no stopping the duo, which is on a (wild) gold chase.
Gagan Narang takes aim during the final round of the men's singles 50m rifle 3 position event of the Commonwealth Games in New Delhi on Saturday. — PTI

UN body now sets right facts on J&K, Arunachal
New Delhi, October 9
UN's Food and Agriculture Organisation (FAO) has dropped references to Jammu and Kashmir and Arunachal Pradesh as "independent entities" in its 2010 report and initiated a review of designating countries and territories. "In matters of this nature, FAO, as a specialised agency of the UN system, follows the principles and practice of the UN, specifically its Cartographic Section. The territories of Jammu and Kashmir and Arunachal Pradesh are documented by the UN as disputed ones," Gavin Wall, FAO representative in India said.
UNION BUDGET 2010-11
RAILWAY BUDGET
2010-11

NDA 60 Glorious Years
1857 The First Challenge
E - Revolution 2005:
A Two-day IT conclave
Assembly Elections - 2005
Turbans
Chandigarh is 50
125 Years of The Tribune
India: The Tasks Ahead
India at Sixty
A Tribune Supplement
EARLIER FEATURES
On Sundays
On Saturdays
Pak reopens supply route to NATO forces
Islamabad, October 9
Pakistan will immediately reopen a vital supply route for NATO forces in Afghanistan, 10 days after it was shut following a cross-border air strike by NATO forces, the Foreign Ministry said today. (Details on World page)
Children for sex
A Tribune Investigation-I
Dark underbelly of Games
50 pc surge in minor girls' trafficking for prostitution; 121 rescued in past 2 months
New Delhi, October 9
While Delhi was being dolled up ahead of the Commonwealth Games, red-light areas were also busy planning to welcome the visitors and tourists. Investigations by The Tribune reveal that trafficking of girls, especially minors, has risen considerably in the past two months. (Details on Nation page)
Oz cops joke about Indian's electrocution
In a shocking revelation, several senior Victorian police officers have been circulating racist e-mails containing the video footage of an Indian train passenger electrocuted accidentally. Moreover, they tagged the comment "this might be a way to fix the Indian student problem in Melbourne" to the video.
Badal govt goes in for damage control
October 9, 2010

BADAL vs BADAL
October 8, 2010

An offer Punjab can't afford to refuse
October 7, 2010

GOLDEN DAY FOR INDIAN SPORTS
October 6, 2010

Lifters open India's tally
October 5, 2010


Games get off to spectacular start


October 4, 2010

ALL SET FOR THE BIG BASH
October 3, 2010

In Ayodhya, now Hindu vs Hindu
October 2, 2010

AYODHYA HEADS TO SUPREME COURT
October 1, 2010

Nation on alert for Ayodhya
September 30, 2010