ART & LITERATURE

'ART & SOUL
ENTERTAINMENT

TELEVISION

GARDEN LIFE

NATURE

FOOD TALK

CONSUMER, BEWARE!

FASHION

GLOBOSCOPE

BRIDGE

ULTA-PULTA
EARLIER FEATURE

TRAVEL

RELATIONSHIPS

DREAM THEME

TIME OFF
Shringara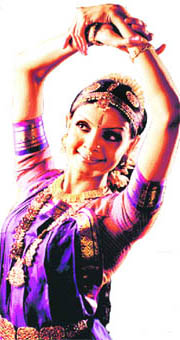 An ode to the aesthetics of beauty
Celebrating and portraying shringara in human form or in sculpture, painting and the performing arts, is a multilayered process in the Indian ethos. It not only involves the material world but also touches on spirituality and divine ecsatasy. Alka Pande unravels its myriad shades
There are a myriad ways in which one can experience and appreciate beauty:
Beauty through participation is of the highest order, since this is beauty beyond utility. The creation and celebration of beauty through objects of beauty is an integral part of the Indian psyche. Whether it is adornment of the body or the dwelling, or making beautiful objects of daily use—there is a vibrant connection between the maker, the object itself and the users of these objects. From the Indian point of view, the very act of creating something new, integrating the beautiful in daily living, is an evocation of Vishvakarma, the Divine Architect.

Bharatnatyam dancer Priyadarshni
Swedish children most Net savvy
Swedes are among the world's most connected people and are swarming to the Internet at an ever earlier age, a study published recently showed, indicating that half of Swedish three-year-olds have been online. "The Internet continues to spread to younger and younger children," according to the study on Swedish online habits, conducted by Internet infrastructure foundation, SE.
Wrapping beauties
A Kinnauri shawl is More than a fashion statement. a connoisseur's prized possession for both its sheer beauty and utility, this shawl is perhaps the world's only wrap that carries an esoteric appeal, writes Roshni Johar
When Napoleon Bonaparte gave an exquisite Kashmiri pashmina shawl to Lady Josephine and later East India Company gifted some on Queen Victoria's birthday, Kashmiri pashmina shawls, became renowned. But currently Kinnauri shawls aregoing global due to the geometrical designs and finesse in weaving, ever since the district, once-banned for tourists, reopened for tourism.
All set for model role
Male models have short life, says Mumbai-based model Sahil Shroff, who is making his film debut with Don 2
Modelling has a very small life, especially for male models and they need a lot of hard work and skill to get noticed. I won't say men have a harder life in the modelling world but yes there is less work for them and that is where the diversion to Bollywood comes in," says Mumbai-based model Sahil Shroff.
A tradition of fragrance
Grasse is the French perfume capital. The fields are full of flowers all year round to perpetuate its aromatic rituals, writes Inder Raj Ahluwalia
As little girls, Agnes Costa and her sister Francoise played in the fields of Grasse, the French perfume capital, gathering the sweetest flowers to bring home. Today, the sisters and heirs to the venerable Fragonard fragrance firm still love to pick flowers – only now they share their bouquets with the whole world.
Riding the air
Top 10 hot air balloon destinations
Nature's beauty reaches a peak in autumn, as the leaves take on vibrant colours. This year consider a autumn foliage tour. Check out www.cheapflights.com top 10 list of hot air balloon autumn destinations.
Hokkaido, Japan: A large island in the northernmost region of Japan, Hokkaido is a great place to witness the change of seasons known by the Japanese as momiji. Hokkaido also has numerous national parks, including Shikotsu-Toya, which has many volcanic hot springs.
The never-say-die hero
One of the most successful stars in the history of Indian cinema, Dev Anand managed to remain in the limelight despite his limitations, both as an actor and a director. A tribute by M. L. Dhawan
An institution in himself, Dev Anand, who died recently, remained an integral part the Hindi film industry for about seven decades. His romantic persona, dialogue delivery, song picturisation and mannerisms, his puffed-up hair, exaggerated motion of hands, the swagger in his gait, were legendary. For generations, he remained Hindi cinema's most charismatic personality.
In Kerala, they boo the film and make it a hit
Krishnanum Radhayum is a badly made film, critics have panned it and audiences are angry. But despite all that it is running houseful here. Guess why? It may sound strange, but people are thronging the theatre to abuse the first-time director Santosh Pandit for making such a bad film.