EDUCATION

JOBS & CAREERS

HEALTH & FITNESS

SCIENCE & TECHNOLOGY

REAL ESTATE

BJP's Ahluwalia loses Jharkhand RS election
New Delhi, May 3


BJP's SS Ahluwalia was defeated in a three-cornered contest for two Rajya Sabha seats from Jharkhand today. He lost to Pradeep Kumar Balmuchchu of the Congress and Sanjeev Kumar of the JMM, causing loss of face to the BJP. His party was, however, able to save the coalition government in the state.
French man pushed from train dies
Karnal, May 3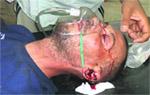 After struggling for his life, French national Frank Wilfred, who was admitted to the ICU in the PGI, Chandigarh, in a critical condition after he was allegedly pushed out from a train at Karnal on April 29, succumbed to his injuries early morning today.

Delhi HC blast accused kill Army jawan in Kishtwar
Jammu, May 3
An Army jawan was killed in an encounter with militants in the Palmar area of Kishtwar district here last night. The group of militants that killed the Army jawan reportedly included militants who carry a cash reward of Rs 10 lakh each on their heads in connection with the Delhi High Court blast of September 7, 2011.