Govt hikes paddy MSP by Rs 170
New Delhi, June 14
Accepting Commission for Agriculture Costs and Pricesí suggestions for 2012-13 kharif season, the government today announced a Rs-170 hike in the support price of paddy to boost production and procurement and also counter fears of erratic monsoon in key rice producing states Karnataka, Andhra Pradesh and Chhattisgarh where elections are due this Crop Year.
Special to the tribune
India, US resolve to take ties to next level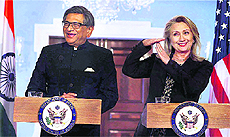 The Obama administrationís decision to exempt India from sanctions for its oil imports from Iran.

External Affairs Minister SM Krishna and US Secretary of State Hillary Rodham Clinton in Washington on Wednesday. ó PTI

Delhi to revive links with Cuba
New Delhi, June 14
Who can forget the famous bear hug Fidel Castro gave to Indira Gandhi when the Cuban leader passed on the chairmanship of the Non-Aligned Movement (NAM) to the Indian Prime Minister in New Delhi in 1983. But with the end of the Cold War, India drifted away from Cuba with small bilateral trade and even smaller political exchanges between the two countries.