Guide to best colleges

Results of Punjab Assembly Polls 2012


THE TRIBUNE DEBATE: NCTC

Army Chief's Age Row

2011: THE YEAR OF UPRISINGS

Punjab Public Transport, an investigation

WORLD CUP 2011: CRICKET SPECIAL

Turbans

EARLIER FEATURES


Jundal's voice samples obtained; his aides in Saudi Arabia under lens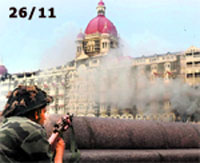 New Delhi, June 30
After sustained interrogation of 26/11 attacks plotter Sayed Zabiuddin Ansari alias Abu Jundal, Indian investigators have turned their gaze towards an Indian youth who often visits India from Saudi Arabia. Meanwhile, Abu Jundal is likely to be booked by the National Investigation Agency (NIA) in the case registered against US-based David Coleman Headley and Tahawwur Rana.
LeT men take refuge in maze of aliases
Slip past security on fake passports, IDs issued in Pak
New Delhi, June 30
Indian investigators are having a tough time finding their way through a maze of fake names, aliases and assumed names that the Lashkar-e-Toiba (LeT) gives to its operatives as a ploy to mask their identities from fellow terrorists and prevent international intelligence agencies from pinpointing them by a particular name.
Kalam was ready to swear in Sonia as PM in 2004


New Delhi, June 30
APJ Abdul Kalam was ready to swear Sonia Gandhi as the PM after the 2004 polls when he was the President despite pressure from various political leaders before Manmohan Singh was nominated to head the UPA government.

APJ Abdul Kalam
Jundal, Saeed were in 26/11 control room in Karachi: PC
June 30, 2012
Petrol price cut by Rs 2.46 a litre
June 29, 2012
Govt-IIT standoff ends; new entrance format from 2013
June 28, 2012
Four more Pak Army officers were part of 26/11 plot
June 27, 2012
Srinagar tense as Sufi shrine goes up in flames
June 26, 2012
India, EU to begin talks on free trade agreement
June 25, 2012
India strongly protests LoC firings at flag meet with Pak
June 24, 2012
Blow to Mamata as HC strikes down Singur land Act
June 23, 2012
Pushed to a corner, BJP backs Sangma's candidature
June 22, 2012
No fresh taxes in Punjab Budget
June 21, 2012