Only India, Pak can solve K-issue


Obama misinformed: Govt
Sunita begins her 2nd space odyssey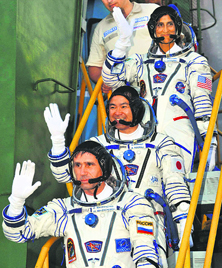 Baikonur, July 15
Indian-American record-setting astronaut Sunita Williams along with her two colleagues today took off for her second space odyssey on a Russian Soyuz rocket, which blasted off successfully from a cosmodrome in Kazakhstan.
Indian-American astronaut Sunita Williams (top) with crew of the mission to the International Space Station before the launch of the Soyuz-FG rocket at Baikonur Cosmodrome on Sunday. — AP/PTI



Mamata man Gopal Gandhi says no to V-P contest


New Delhi, July 15
The vice-presidential elections took an interesting turn on Sunday with the Trinamool Congress' first choice for the post, Gopal Gandhi, refusing to take part, even as the Opposition-led NDA said its nominee could be decided as early as tomorrow.