Lost in generations
Tibetan youth is under tremendous pressure to balance tradition and modernity. While the older generation was brought up in the Tibetan tradition, it is the youngsters who have been born into and raised in a democratic and modern way of life
Shivani Dasmahapatra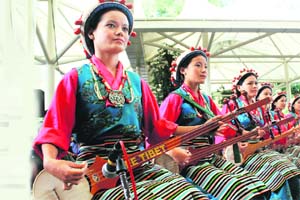 Tensin Tsungde's words from his poem "Tibetanness" (2007) tear into the heart of truth. Tibetans, one of the most resilient people in the world, face a silent challenge — an identity crisis in the second and third-generation Tibetan youth and the need to preserve their identity in exile. Thirtynine-year-old Tsungde, poet, writer and activist is a youth icon. The award-winning author of Crossing the Border (Outlook -Picador Award for Non-Fiction 2001), recalled growing up in the Tibetan Childrens' village school (TCV), where teachers narrated stories about Tibet.
---
ARTS
'Art & Soul
A truly rare talent
Abu'l Hasan, a painter in the court of Jahangir, was an artist gifted with deep psychological insight, observation and workmanship
B.N. Goswamy
The title that the Emperor conferred upon the painter can be differently translated of course - 'Rarity of the Times', 'Wonder of the Age', 'Zenith of our Times' — but whichever way one translates, it sits perfectly. For Abu'l Hasan was a truly rare talent: a child prodigy; someone possessed of singular skills of observation and workmanship; as an artist gifted with deep psychological insight.
---
FITNESS
good health
A raincheck for immunity
The rains bring relief. They also bring a host of infections. A healthy immune system is the only way to enjoy the rainy season
Ishi Khosla
With rains come flu, fevers and unending infections - bacterial, viral and fungal. These can further aggravate allergies, skin, respiratory and digestive problems. While we can't do much about the rains, we can certainly beat the bugs by strengthening our immune system. A diet consisting largely of junk food, or refined sugar, white rice, refined fats low in vitamins and minerals can weaken the immune system.
---
Society
Beating the fuss out of eating
Parents often force kids to eat foods they do not like and meal times become a tug of war and a struggle, with each side putting its foot down
Aditi Garg
Everyone has a unique relationship with food. Some seek solace in it, others eat because they enjoy it, still others eat just because they have to, and then there are some who find meal time very nerve-wracking. Kids belonging to the last category are picky about what they eat; so much so that only a handful of foods find their favour. With so much fuss about food, it is but natural that parents, especially mothers, are driven up the wall.
---
TRAVEL
Heaven's mirror image
When he visited Mauritius in 1896, Mark Twain was so impressed by its beauty that he compared it to heaven. More than a hundred years later the island's unparalleled charms still sway visitors
Preeti Verma Lal
Twain is a tad funny. He thinks of Mauritius as heaven's prototype. Heaven came first, didn't it? But do not dismiss all Twainesque wit. You'd start believing in Twain's aphorism even before you land on the island that sits smart in the Indian Ocean. The sea is as beryl as a blue can get, the palms sway in the pristine wind, women with endless skirts do the Sega dance andnd the extinct dodo bird comes alive in a million ways.
---
ENTERTAINMENT
The phenomenon
Amitabh Bachchan is not an easy man to decode. The actor, who has done innumerable films, opens up about his latest film Satyagraha, Bollywood, Kaun Banega Crorepati, and, above all, his creative journey of 45 long years
Nonika Singh
Flattery will not get your anywhere with the tallest man (metaphorically for sure, and perhaps literally too) in Bollywood. Amitabh Bachchan, or Big B, does not take very kindly to epithets. Words like legend and superstars often affixed to his name leave him almost cold, evincing an embarrassed guffaw or at best a cynical reply. But the man who has floored the world with his magnetic charm will not let you floor him.
Man of many roles
Actor Gaurav Gera has come a long way from his days in Jassi Jaisi Koi Nahin. He is back in a new daily soap Mrs Pammi Pyarelal, cross dressing as a glamorous and ultra-fashionable, chic woman
Surekha Kadapa-Bose
Call him by any name — Laddoo, Nandu, Chutki, Chutka, Jhumroo, or Mrs Pammi Pyarelal. The fact remains that the 30-plus Gaurav Gera can don any make-up, style, or even adopt the suitable voice and convince you that he is real. On his way to the Mumbai domestic airport to catch the night flight to Delhi after having wrapped up his day-long shoot at 8 pm, Gaurav laughingly recalls his days of Jassi Jaissi Koi Nahin serial. People really thought I was an illiterate nerd who couldn't speak English and didn't know the ways of life."