LIFE+STYLE

CHANDIGARH

LUDHIANA

BATHINDA

JALANDHAR

AMRITSAR TRIBUNE

JALANDHAR TRIBUNE

BATHINDA TRIBUNE

JAMMU TRIBUNE

KASHMIR TRIBUNE

DELHI

DEHRADUN

DEHRADUN PLUS
Pak releases 362 Indian prisoners
Amritsar, August 24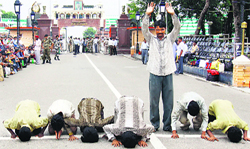 Pakistan released 362 Indian prisoners, including eight juveniles, against the backdrop of tensions between the two countries over firing along LoC in Kashmir.
Freed Indian prisoners after crossing the Attari-Wagah border near Amritsar on Saturday. Photo: Vishal Kumar



Pak fires on Indian posts in Poonch
(Details on J&K page)

Makhan Singh case
Govt promises welfare policy for sportspersons
New Delhi, August 24
A week after former athlete Makhan Singh's case was highlighted in The Tribune, the government today said it was going to formulate a policy for the welfare of sportspersons. Parliamentary Affairs Minister Kamal Nath, in response to a matter raised by Leader of the Opposition in the Lok Sabha Sushma Swaraj, promised to come up with a new policy for post-retirement rehabilitation of sportspersons.



OTHER PAGES

HIMACHAL: Dhumal withdraws decade-old defamation suit against Capt


CHANDIGARH: Not a cattle walk, 109 caught on Day 2


LUDHIANA: Cops' brutal face exposed


DELHI: Woman murdered, son kidnapped


Business:

FinMin promises steps to attract capital flows

OPINION: Pakistan hawks prevail over its doves


NATION: HC rejects plea for lifting of ban on VHP's Ayodhya yatra


SPORTS: SA survive early onslaught

WORLD: US naval forces move closer to Syria as Obama meets his security team


Lahore Log

The tribune guide to best colleges

Budget
2013-14

INDIA CHINA WAR 50 YEAR LATER

YEAREND SPECIAL: 2012

Year of survival

The tribune 130 years
a witness to history
book released by prime minister manmohan singh

Guide to best colleges

Results of Punjab Assembly Polls 2012

HIMACHAL VOTES 2012

EARLIER FEATURES

Tunda sent to 14-day judicial custody

New Delhi, August 24
Lashkar-e-Toiba bomb expert Abdul Karim Tunda, who has been admitted to the AIIMS for special cardiac care, was today sent to 14-day judicial custody by a Delhi court. Abdul Karim Tunda
Mumbai, August 24
The Mumbai Police on Saturday arrested two more accused in connection with the gang rape of a 23-year-old photojournalist, as the hunt for the other two absconding accused continued for the second day today amid a massive public outrage. Vijay Jadhav was arrested in the wee hours from Madanpura area by the elite Crime Branch personnel. Later in the evening, the third accused, identified as Siraj Rehman, was nabbed from Mumbra area


Not end of life: Victim
"Rape is not the end of life. I want strictest punishment for all the accused." This is the message the young Mumbai photojournalist has sent out from her hospital bed to people who feel outraged at her gang rape. Working as an intern with an English magazine, the photojournalist also wants to be back on duty as soon as possible.


Dacoits gang-rape woman constable in Jharkhand
(Details on Nation page)

Jammu, August 24
A national bravery award winner from Rajouri district, Rukhsana Kausar, has vehemently opposed the demand by some Kashmir-centric groups to dissolve village defence committees (VDCs) terming it a "drama being enacted to encourage terrorists and their sympathisers" in Jammu and Kashmir. Kausar, a Gujjar, was given a national bravery award for killing a Lashkar-e-Toiba commander at her residence.


Rukhsana Kausar

12 Andhra MPs suspended in LS
August 24, 2013
12 Andhra MPs suspended in LS
August 23, 2013
Govt seeks to negate SC order on convicted lawmakers
August 23, 2013
Chinese troops intrude into Arunachal
August 22, 2013
4 Cong states roll out food security plans
August 21, 2013
Train mows down 37 in Bihar
August 20, 2013
Lashkar's Tunda was in touch with ISI
August 19, 2013
Top terrorist Tunda arrested
August 18, 2013
Capital control fears trigger stock market plunge, steep fall in Re
August 17, 2013
Explosions sink sub off Mumbai; 18 dead
August 15, 2013
Pakistan Assembly passes anti-India resolution
August 14, 2013
J&K minister quits, protests continue
August 13, 2013