LIFE+STYLE

CHANDIGARH

LUDHIANA

BATHINDA

JALANDHAR

AMRITSAR TRIBUNE

JALANDHAR TRIBUNE

BATHINDA TRIBUNE

JAMMU TRIBUNE

KASHMIR TRIBUNE

DELHI

DEHRADUN

DEHRADUN PLUS

Mumbai gang rape
Hunt ends as police nabs 5th accused from Delhi slum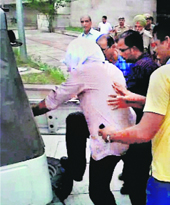 Cops trying to locate mobile phone used to film the crime
Mumbai/Delhi, August 25
All five men accused of gang-raping a young photojournalist in Mumbai have been arrested. The police is now trying to trace a mobile phone used to take pictures of the crime committed at a mill three days ago.
One of the accused being produced in a Delhi court on Sunday. — PTI

UP Govt clamps down on VHP yatra;
1,700 detained
Lucknow, August 25
VHP's decision to defy the state government ban and perform 84-kosi parikrama yatra from Ayodhya today turned out to be non-starter. Around 1,696 sadhus and VHP supporters headed for Ayodhya for VHP's proposed parikrama were detained in various parts of the state today.

Nation page: SP, BJP will fail to draw political mileage: Beni
OTHER PAGES

HARYANA: Girl's alleged rape, murder trigger violence in Jind


J&K: Measures afoot to draft action plan for 2014 Amarnath yatra


HIMACHAL: Wildlife experts see red over killing of leopards


CHANDIGARH: Water shortage hits residents hard


LUDHIANA: Parking woes to be thing of past


DELHI: BJP election list carries Goel's detractors


Business:

NSEL crisis: SEBI cracks the whip on defaulters

OPINION: Rotten reality

SPORTS: IOA closes ranks to keep chargesheet clause at bay

WORLD: Syria grants UN access to chemical weapons site


Lahore Log

The tribune guide to best colleges

Budget
2013-14

INDIA CHINA WAR 50 YEAR LATER

YEAREND SPECIAL: 2012

Year of survival

The tribune 130 years
a witness to history
book released by prime minister manmohan singh

Guide to best colleges

Results of Punjab Assembly Polls 2012

HIMACHAL VOTES 2012

EARLIER FEATURES
Cattle smugglers murder youth in Gurgaon, villagers go on rampage
Gurgaon, August 25
The traffic on the Delhi-Jaipur rail track and the Gurgaon-Pataudi highway remained disrupted for around 7 hours as thousands of villagers went on rampage following the killing of a local youth, allegedly by cattle smugglers.

China likely to set up industrial parks in India
New Delhi, August 25
Notwithstanding border tensions between them, the possibility of China setting up industrial parks in India is being explored to reduce the bilateral trade gap heavily tilted in former's favour.
Foreign Secy promises all help to war-torn Afghanistan
New Delhi, August 25
On a quiet visit to Afghanistan that concluded today, Foreign Secretary Sujatha Singh assured the Afghan leadership that no terrorist attack would have an impact on India's determination to assist the embattled nation in its reconstruction and development efforts.


Capt re-asserts himself with power lunch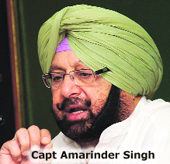 Chandigarh, August 25
An informal luncheon meeting at the residence of the Congress Working Committee member and former Chief Minister Capt Amarinder Singh today added fuel to the fire over his alleged difference with Punjab Pradesh Congress Committee president Partap Singh Bajwa.

Sonia rules out early polls, sure of UPA-III
August 25, 2013

12 Andhra MPs suspended in LS
August 24, 2013
12 Andhra MPs suspended in LS
August 23, 2013
Govt seeks to negate SC order on convicted lawmakers
August 23, 2013
Chinese troops intrude into Arunachal
August 22, 2013
4 Cong states roll out food security plans
August 21, 2013
Train mows down 37 in Bihar
August 20, 2013
Lashkar's Tunda was in touch with ISI
August 19, 2013
Top terrorist Tunda arrested
August 18, 2013
Capital control fears trigger stock market plunge, steep fall in Re
August 17, 2013