LIFE+STYLE

CHANDIGARH

LUDHIANA

BATHINDA

JALANDHAR

AMRITSAR TRIBUNE

JALANDHAR TRIBUNE

BATHINDA TRIBUNE

JAMMU TRIBUNE

KASHMIR TRIBUNE

DELHI

DEHRADUN

DEHRADUN PLUS
Rajan effect: Rupee jumps, Sensex zooms
New Delhi, September 5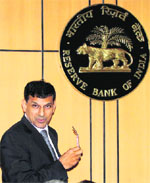 Two days into the job and new Reserve Bank of India (RBI) Governor Raghuram Rajan is inspiring fresh confidence and excitement into the markets and industry. The markets rallied 412 points to a three-week high on Thursday after Rajan announced a slew of steps to boost the rupee and revive economic growth.
RBI Governor Raghuram Rajan at its Mumbai Headquarters. — PTI

Iran to finally release Indian ship
New Delhi, September 5
Iran has finally agreed to release an Indian oil tanker that was detained by its naval authorities at the Bandar Abbas Port three weeks ago. A Shipping Ministry official today said the Iranian authorities had agreed to release "MT Desh Shanti", owned by the Shipping Corporation of India. He said the decision had been communicated to his ministry by Indian Ambassador in Iran Dinkar Srivastava.
Minister reviews steps to trace missing coal files
New Delhi, September 5
The UPA government today undertook firefighting measures to locate a large number of missing files pertaining to coal block allocations. Union Coal Minister Sriprakash Jaiswal held a review meeting in which representatives from related ministries such as Steel and Power were also present. (Details on Nation Page)
OTHER PAGES

HARYANA:Congress placates Birender, makes him HRD panel chief


J&K: Five mentally challenged minor girls sexually abused in Jammu


HIMACHAL: Govt to set up body to conduct Classes V, VIII examinations


CHANDIGARH: Soon, identify donors through DLs


LUDHIANA: Class VII girl attacked


DELHI:One killed in firing near Saket Court

BUSINESS: GDP growth rate disappointing: FM

OPINION: Limping along

SPORTS: IOC keeps Olympic door shut on India

WORLD: Show resolve to restore growth: PM tells G-20



Lahore Log

The tribune guide to best colleges

Budget
2013-14

INDIA CHINA WAR 50 YEAR LATER

EARLIER FEATURES

Want to serve as Gujarat CM till 2017: Modi


Ahmedabad, September 5
Apparently to derail his critics within the BJP and outside who are trying to block his passage to the country's top post, Gujarat Chief Minister Narendra Modi today said he was "harbouring no such dream to become the prime minister."
Gujarat CM Narendra Modi at a function in Gandhinagar on Thursday. — PTI (Details on Nation Page)

Geetika case
Kanda gets interim bail to attend House session


New Delhi, September 5
Former Haryana Minister Gopal Goyal Kanda, who has been in jail for more than a year in the suicide case of air hostess Geetika Sharma, today got interim bail for a month from a Delhi court for attending the ongoing Assembly session and taking care of his constituency, Sirsa. Additional sessions judge MC Gupta granted bail to Kanda on a number of conditions, including a personal bond and two sureties, each for Rs 5 lakh & totalling Rs 15 lakh, and that he would not leave the country or flee from the trial.
Himalayan TSUNAMI
64 bodies found in Kedar valley
Dehradun, September 5
With the weather clear at most places across Uttarakhand over the past few days, 64 more bodies were found lying over the ridges in Kedar valley and cremated with necessary rituals, a senior police officer said today.
SC turns down Centre's review plea on convicted lawmakers
September 5, 2013
India opposes military action against Syria
September 4, 2013
Food Bill gets Parliament nod
September 3, 2013
SC pushes for swift justice in rape cases
September 2, 2013
Juvenile held guilty, to spend three years in special home
September 1, 2013
House logjam hitting investor mood: PM
August 31, 2013
Terror mastermind Bhatkal held
August 30, 2013
Re in tailspin amid concerns over oil prices
August 29, 2013
Govt steps in to put mega projects on fast track
August 28, 2013
Food Security Bill clears LS hurdle
August 27, 2013