LIFE+STYLE

CHANDIGARH

LUDHIANA

BATHINDA

JALANDHAR

AMRITSAR TRIBUNE

JALANDHAR TRIBUNE

BATHINDA TRIBUNE

JAMMU TRIBUNE

KASHMIR TRIBUNE

DELHI

DEHRADUN

DEHRADUN PLUS
Valley comes alive as Zubin blends West's best with heavenly Kashmir
Srinagar, September 7
He was to say he was happy. So, he chose music and Srinagar. The Zafarwan hills strung around a decked up Shalimar Bagh were a natural giveaway, and the sinewy chinar appeared to sway with the unsaid: Zubin Mehta was indeed very happy. To his expression of mildness, the gathering of over 2,000 went into a reverie, this evening. "Ehsaas-e-Kashmir" was meant to enchant.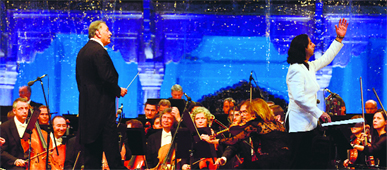 A new high: Zubin Mehta (L) and Kashmiri instrumentalist Abhay Sopori perform during the Ehsaas-e-Kashmir concert in Srinagar on Saturday. —afp
Four suspected militants killed
Srinagar/Anantnag, SepT 7
Four persons were killed and one was injured in south Kashmir's Shopian district in a firing by Central Reserve Police Force (CRPF) personnel. The killings took place hours ahead of the Zubin Mehta's concert in Shalimar Garden.
OTHER PAGES

HIMACHAL: Govt talks austerity as revenue declines, debt rises


CHANDIGARH: Mumps outbreak at Mohali village


LUDHIANA: illegal water connections


DELHI: Medical students to brainstorm reforms

OPINION: A case for pride and reform in medical education

SPORTS: At 31, Serena shows heart for sweet 17

WORLD: US can't turn a blind eye to Syria: Obama


Lahore Log

The tribune guide to best colleges

Budget
2013-14

INDIA CHINA WAR 50 YEAR LATER

EARLIER FEATURES

Clashes in Muzaffarnagar; 9 killed, curfew clamped
Lucknow, September 7
Nine persons, including a TV channel journalist, were killed and 34 injured today as fresh violence between members of two communities erupted in Muzaffarnagar, after which an indefinite curfew was imposed and the Army deployed to help maintain law and order.
US can't turn a blind eye to Syria: Obama
Washington, September 7
President Barack Obama today told his war-weary country that America needs to use limited military force in Syria to deter future chemical weapons attacks. (Details on World page)


Cash-for-CLU 'scam' stings 7 more Haryana Cong men
Chandigarh, September 7
Haryana's Congress government has been stung by a sting. The government, which was defending Chief Parliamentary Secretary Ram Kishan Fauji till yesterday, found itself today in a bigger mess as the cash for change of land use (CLU) "scam" took seven more Congressmen, including four MLAs, into its fold.
| | |
| --- | --- |
| | INLD leaders burn the effigy of CPS Ram Kishan Fauji over his alleged role in the scam. |
House passes Bill to allow those in jail to contest polls
September 7, 2013
RS okays Bill to give Executive role in judges' appointment
September 6, 2013
SC turns down Centre's review plea on convicted lawmakers
September 5, 2013
India opposes military action against Syria
September 4, 2013
Food Bill gets Parliament nod
September 3, 2013
SC pushes for swift justice in rape cases
September 2, 2013
Juvenile held guilty, to spend three years in special home
September 1, 2013
House logjam hitting investor mood: PM
August 31, 2013
Terror mastermind Bhatkal held
August 30, 2013