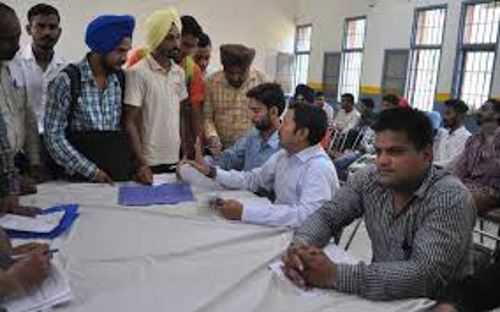 Ananya Panda
Tribune News Service
New Delhi, January 13
Fifty unorganised youth groups, under "Yuva Halla Bol" — a nationwide movement against unemployment in India — have demanded a "model code of conduct" be implemented for recruitments, as one suggested by them to plug loopholes in government recruitment process, including delays and ensure fair selection within nine months.
Last year, young Sumit, an SSC candidate from Jharkhand's Giridih district, committed suicide after he didn't get appointment letter for over a year after clearing the exam for a post in Centre's IT Department. Bagging a public sector job in India is indeed no less than achieving stars and Sumit is not an isolated instance with there being several testimonies to young lives tragically cut short.
There are 23.8 lakh sanctioned posts currently lying vacant with central and state governments, as per government's own submission in Parliament. These vacancies be filled and the order scrapping around four lakh central government posts be revoked, YHB demanded.
Shortage of manpower hits government services in almost all the sectors, including education, healthcare, armed and para military forces, policing and judiciary with India still short of half a million police personnel to meet the UN's recommended ratio as it is way behind meeting the Law Commission's goal of 50 judges per million population.
Activist Govind Mishra, known for his role in widespread agitation against the Staff Selection Commission paper leaks of 24 exams, said the selection procedure is excessively slow even as there have been orders from the Department of Personnel and Training in 2016 of completing any direct government recruitment within specified six months duration.
As the government has consistently failed to enforce its own orders, we demand the implementation of model code of conduct and provide jobs within nine months," said Mishra.
The code addresses the long administrative delays and other systemic flaws which have resulted in "large-scale irregularities and corruption" in government recruitments.
The applicant should be informed through SMS and mail, admit card be issued within a month and exam centres should be within 100 kms of the candidate's home district. Prelims should be held within 15 days of issuing admit cards, answer sheet and keys be released in seven days of the exam, next level/ mains be done in next one month and a 24x7 grievance cell for aspirants, among others — are some of the other recommendations.
Upset with governments and polity, student activists and affected youth, who dub the Modi government's 10 per cent EWS quota law as "another rhetoric", announced a charter of demands as a part of their sustained nationwide agitation for public jobs and have also pressed for application fee waivers, enactment of National Job Guarantee Act for graduates and fixing mandatory job targets under each government policy.
YHB's Anupam said the charter of demands have been uploaded on change.org at a time when paper leak has become "so normal" in India. The charter was adopted by youth panchayats in around 41 cities on Saturday ahead of a youth summit scheduled for January 27 to discuss unemployment and fair selection in government.
Top Stories
After bhoomi pujan in Ayodhya, Bhagwat says have fulfilled r...