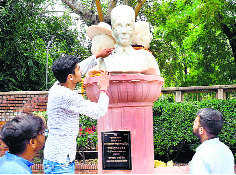 Tribune News Service
New Delhi, August 24
The Akhil Bharatiya Vidyarthi Parishad-led Delhi University Students' Union reportedly removed the busts of Veer Savarkar, Shaheed-E-Azam Bhagat Singh and Subhash Chandra Bose on Saturday. The busts have been kept safely by the Delhi University.
On Wednesday, the National Students Union of India (NSUI) had put a garland of shoes around Sarvarkar's bust and tarred its face.
As soon as the ABVP came to know about the installation of statues, they asked the Students' Union to set up the statues as per due procedure of the university. The Delhi University has assured that the installation of the busts would be done in accordance with due procedure, that is, after conducting the DUSU polls.
The ABVP has also demanded stringent legal action against those involved from the NSUI for insulting our freedom fighters to meet their petty political interests. Left-affiliated student organizations, CYSS and NSUI have stooped down to a very low-level and acts such as these were a major blow to the culture of debate and discourse prevalent in the university.
The ABVP Delhi's State Secretary Sidharth Yadav said, "It is very unfortunate that the DU administration turned a deaf ear to the DUSU's demand for installation of busts of freedom fighters for a very long time. University should restore the busts as promised, at the earliest."
"Also the manner in which other student organisations have carried out such unfortunate acts reveal the real and degraded mindset of these organisations towards freedom fighters, the repercussions of which they will face in the times to come. At the same time, the Congress should understand that its 'Kaalikh model' is not going to hide the reality. We have decided to remove the busts because we don't want to do politics over the name of freedom fighters," he added.