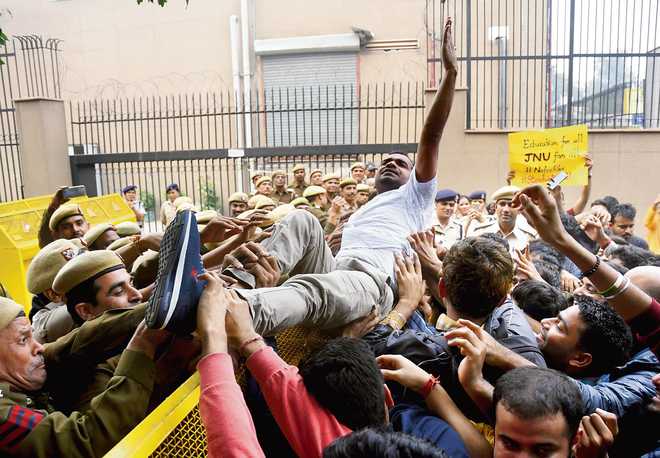 Tribune News Service
New Delhi, November 13
The executive council of Jawaharlal Nehru University met today and withdrew most of the controversial provisions of the hostel manual to which students have been protesting for days.
The council also partially rolled back the proposed hikes in a range of fees, including rents for single and double rooms, making major concessions for students from the economically weaker sections.
The changes came after HRD Minister Ramesh Pokhriyal Nishank intervened to ask the JNU Vice Chancellor to take a considerate view of the demands of agitating students.
Consequently, the council today decided not to include in the JNU hostel daft manual some of the controversial provisions which were earlier proposed to be approved.
A major provision that the JNU has decided to take back is the timings imposed on students to get back to the hostels. The withdrawn provision of the hostel manual says, "The residents should be back to their respective hostels latest by 11 pm or by half an hour after the library closes, whichever is later. Students who are found outside their respective hostel premises after the stipulated time and involving in any violence or otherwise disturbing the peace on campus and privacy of JNU community will be evicted from hostel forthwith apart from any other disciplinary action by the university."
The council also dropped a provision which asked students to come to canteens "appropriately dressed."
Top Stories