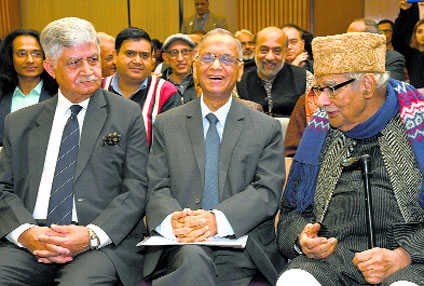 Tribune News Service
New Delhi, December 8
Infosys co-founder NR Narayana Murthy today made a compelling case for raising public investment in health saying poor public health access will act as a speedbreaker in India's growth story.
Delivering the 38th Bhim Sen Sachar Memorial Lecture this evening, Murthy, famous for leading the IT outsourcing revolution, cited health data to argue that India was way behind its rival China and neighbour Sri Lanka on health indicators and needed to do much more to get even.
Murthy quoted Nobel Laureate Tim Morrison's remark, "If we don't create a future, present extends itself," to say: "It is time to create a future for public health in India."
The top industrialist urged urging citizens to participate in the cause of health by insisting that schools and workplaces become sites for health promotion as the Government does its job by raising public spending in health to at least 2.5 per cent of the GDP.
"With a public spending of less than 1 per cent of the GDP on health, we are among the lowest spenders on health in the world. This must change. Availability of essential drugs must be ensured and health research must be fostered. Social and economic determinants of health like water and sanitation must be fully aligned to public health goals," he said.
Murthy rued poor health status of women saying "women's health suffers in male-dominated societies like India".
"With so many anemic women in the reproductive age, how can India boast of reaping the demographic dividend?" he wondered.
Earlier, the Infosys founder mentioned several disturbing statistics to drive home his point.
He spoke of how life expectancy in Nepal and Bangladesh was better than India's and how life expectancy in Sri Lanka and China exceeded India's by as many as 11 years.
"Regional inequities are equally disconcerting. Assam and UP are 11 years behind Kerala in life expectancy. Child mortality situation has improved but in 2016 our child mortality rate was six times higher than that of Sri Lanka. Our maternal mortality rate is four to six times higher than that of China and Sri Lanka respectively. Our child immunization rates are lower than that of sub Saharan countries. Anemia is rampant in children, adolescent girls and women of reproductive age. While we have done well in addressing communicable diseases, non communicable diseases are set to increase our disease and disability burden," Murthy said flagging catastrophic out of pocket expenditure on health and urging immediate Government attention to public health.
The Infosys founder was speaking in memory of late Bhim Sen Sachar, a leading freedom fighter and former Chief Minister of Punjab.
Share burden of defending borders: Gen Malik
Former Army Chief Gen VP Malik (Retd) today said the politicians should share the burden of defending India's borders by sending their kin to the army just like late Bhim Sen Sachar had done. "Unlike other politicians, Shri Bhim Sen Sachar had sent his youngest son to the Army. He later died in Gaza while on a peacekeeping mission."
Gen Malik also stressed the need for improved government spending on public health saying, "traditional (border) security had no meaning without non-traditional (health) security".
Top News
Odisha government has issued helpline 06782-262286. The rail...
At least 50 people died and 350 were injured in a three-way ...
Estimated strength of these six teams is more than 240 perso...
WFI chief demanded sexual favours in lieu of supplements and...
Said agitation will be intensified by holding panchayats acr...