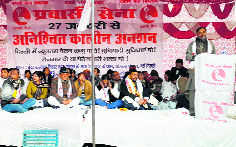 Ananya Panda
Tribune News Service
New Delhi, January 27
Giving a month's ultimatum, youth groups today warned Prime Minister Narendra Modi-led Centre and all state governments against ignoring their demands to "provide jobs and fair selection" in government recruitments, saying doing so will result in youth's boycott of the upcoming Lok Sabha elections.
Particularly disillusioned with the incumbent Modi government and its flagship schemes, like Skill India and Startup India, these youth groups— largely comprising aspirants of civil services and staff selection commission-anchored examinations — want the government to declare the growing unemployment a "national disaster" and implement a model code of exams for jobs to ensure fair selection and plug loopholes in the existing recruitment system.
In a desperate bid to lend voice to a major chunk of unemployed Indians, they drew the government's attention to the country's gnawing joblessness crisis that has prevented India from reaping demographic dividends of being the world's youngest country.
Under campaign Yuva Halla Bol (YHB), they urged the PM in an open letter to announce a "Pradhan Mantri Cheat Fund Yojna" to enable them to secure jobs through loans to buy leaked papers indicating how "corruption and system flaws" have aggravated unemployment in the country, also reminding 24 examination papers leaked in 2018 alone.
At a national youth summit organised under YHB, Punjabi sufi singer Rabbi Shergill, lawyer-activist Prashant Bhushan and Swaraj India president Yogendra Yadav extended support exhorting the participants to step up the campaign if the governments fail to respond to their demands.
YHB's convener Anupam accused the BJP-led Centre of doing nothing and turning youth to a "demographic burden". "The current government which promised to create one crore jobs annually has instead removed the same number of jobs at a time when 24 lakh sanctioned posts are lying vacant. Our government remains insensitive to our campaigns till now," said Anupam.
Before moving a resolution in which the central and state governments were given one month ultimatum till February 27 to act on YHB's demands, he claimed that over the last four-a-half-years, "lynching, leaking, launching and lying" have been normalised demanding that the government must declare unemployment as a national disaster.
Yadav, who came down heavily on the Modi government, accused it of removing data that revealed how grim is the country's joblessness situation noting "unemployment has been turned into an industry" and in the last four years India has seen "job loss growth".
He urged youth of the country to mobilise students in colleges and universities, those taking competitive exams to make this stir a national movement to ensure development is not limited to corporate few, like Ambanis and Adanis but to the last person in this country. Force the country's polity and parties to take job crisis as a priority in their manifestoes as the PM was forced to mention farm distress, Yadav underlined.
Citing the Centre for Monitoring Indian Economy data, Yadav said between December 2017- December 2018, 1.10 crore jobs were reduced while annual labour bureau survey revealed that one of every sixth youth and one out of every third graduate is unemployed.
"Young people are roaming on streets with employment letters but no jobs. Youth wants jobs, not jumlas.... How can the 21st century be of youth if they sit at homes?" said Yadav adding that Nobel Laureate Amartya Sen has said the Congress fared badly on tackling unemployment but this government has done worst.