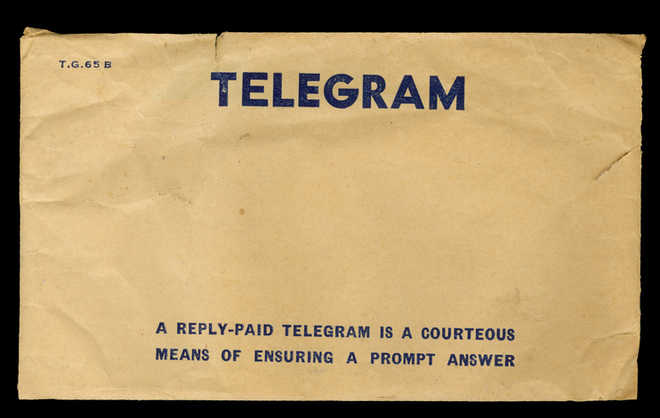 Pankaj Deo
Millennials may have used or heard of telegram messenger, an app that can instantaneously send heavily encrypted messages that are capable of self-destructing, but they perhaps know little or nothing of its 19th century namesake, telegram — the telegraphic service offered by the Department of Posts in India till July 2013. Written in all caps and delivered by a groggy postman on a bicycle, the telegram was once the fastest means of communication, which lost its relevance as smartphones enabled people, not only to send and receive messages/pictures/emails instantly, but also to make video calls.
In that pre-Internet era of snail mails, all caps didn't imply yelling; it indicated urgency. Sending a telegram was costly, as it charged a huge amount of money per letter. So, people used fewer words, which the person at the telegraph office typed frenetically with staccato sounds, which were transmitted to the destination telegraph office immediately. Naturally even the messages, mostly sad, sounded staccato and unceremonious, e.g., 'COME SOON. FATHER SERIOUS.' Sometimes, it also brought messages that brought cheer to people.
Many a time such a system of communication led to a situation bordering on a comedy of errors. In the late 1980s during our university days, a friend from Kanpur, Prakash Joshi, told his parents that his friend would be arriving in a few days and staying with them. Since Prakash had to suddenly go out of town for a week, he asked his parents to receive his friend who would inform about his train and date of arrival by telegram.
A couple of days after Prakash left Kanpur, a telegram arrived at his home. As his father opened it, his eyes widened with a little more attentiveness. It read: 'ARRIVING BY 2303 UP ON 18 NOV. ARUNA.' The father, curious to know whether it was his son's girlfriend arriving unannounced, called the mother. 'Did Prakash tell you anything more about who is coming than he told me?' 'No, he talked about it only once when we both were present,' replied the mother. Prakash's father said smilingly, 'Now get ready to receive Aruna. She is coming tomorrow.' The parents decided to go together to receive this mystery visitor.
The train arrived and passengers started deboarding, but the parents had no way of recognising their Aruna. They kept looking at every young female passenger who even remotely resembled the Aruna of their imagination. A little later, they noticed a person, standing somewhat bewildered and carrying a suitcase. The father thought of helping the newcomer with directions to his destination. When he approached the man, he said he was waiting for his friend Prakash. The father asked him his name. And the mystery was solved. His name was Arun Anand, which he had shortened in the telegram! Somehow, the dot between Arun and 'a' went missing.
Top Stories