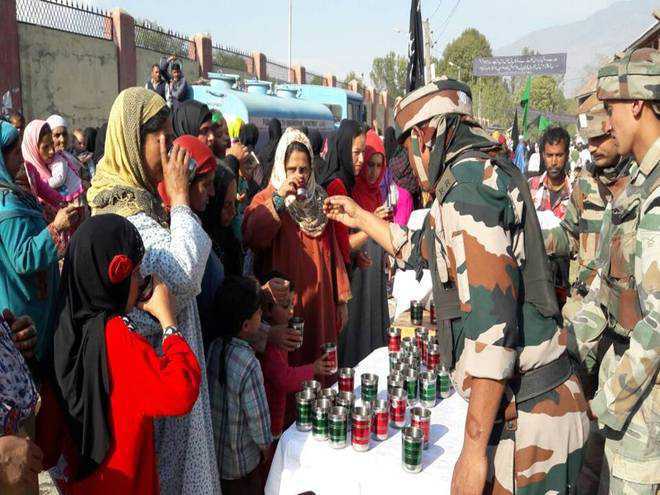 Maj Gen Raj Mehta (retd)
POSTED from the salubrious Defence Services Staff College to a Rashtriya Rifles sector in Doda district as Deputy Commander in 1997, we had just relocated the sector HQ on a rocky ledge overlooking the fast flowing Chenab at Suigwar, just outside the troublesome city. The shift was necessitated in part because our earlier location in the city centre was overlooked by a steep, spreading, bare hill from where terrorists sporadically fired at us by day and night. I wasn't complaining. I had requested for an operational posting and was learning fast.
The shift was a choice between a rock and a hard place…The day I arrived, three terrorists had been shot above Suigwar. A few months and many encounters later, I was going to meet the SSP on operational work in my two-jeep quick reaction team (QRT), when I was suddenly stopped on the steep, ascending road in this one-street town, reminiscent of Texan wild-western badlands. In seconds, we had surrounded a phiran-clad old man with AKs drawn, expecting an encounter or IED. He was crying and distraught. You don't hug such men in Doda...They could have an AK tucked away, making your hug fatal, but much of soldiering is instinctive. I hugged him.
'My son is dying, Sir,' he sobbed against my chest. The civil hospital has no blood. What will I do?' I put the man in my jeep and halted at the hospital. 'Test me and the QRT for our blood,' I told the startled doctor. Three soldiers and I had the right blood match and we donated four units.
The old man had, meanwhile, slipped out and returned with two bottles of cold milk 'for us to regain strength'. It is all that he could afford. Men don't cry, of course, but we very nearly erred. I paid for milk for all present, served in chipped, old-fashioned glass bottles that used marbles as stoppers. The old man wiped his tears as he put 'medicine' money inside his threadbare phiran. We left feeling warm and satisfied.
On the anti-terror grid, you work 18 hours a day, forgetting yesterday. I did too. Standing one day on the HQ ledge with the Chenab frothing below, a rookie sentry rushed up: 'Two villagers insist on seeing you, Sir…They are carrying a small container,' he said, nervously fingering his AK rifle trigger-guard.
Involved with having a coffin readied for one of our soldiers shot in an encounter hours ago, I was grim and brusquely refused, but instinct made me look up. The visitors were waving…Suddenly, memory transported me to the one-street city. We hugged again, a taciturn Colonel, an old man and his young, astonished son. 'I have walked all the way from Dessa, Sir,' said the sobbing old man. 'My wife has sent you a rooster, desi ghee and rajma...' Nothing more was needed to be said.
Soldiers don't cry publicly. Instead, as the happy duo departed, escorted by 5/11 Gurkha lads, with mule-loads of rations, I turned to salute our brave dead soldier one last time. Salute the old man and son for returning me to the timeless hearts-and minds ethic of the Army that unforgettable day, overlooking the timeless Chenab.
Top News
The accused ASI was nabbed by local people, who then handed ...
Two frontline combat aircraft of the IAF crashed during a tr...
Gandhi was accompanied by his sister and Congress general se...
PM Modi also appreciated people for eating food items made o...