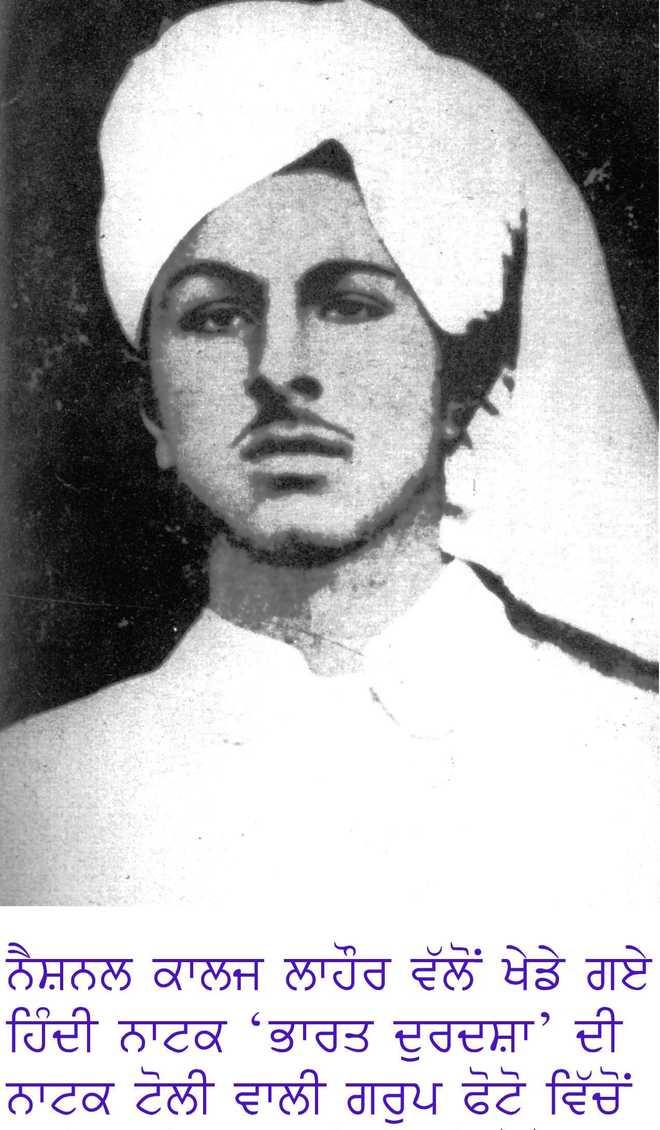 Chaman Lal
Though many pictures of Shaheed Bhagat Singh are in the public domain, not all are real. The most common picture is an imaginary painting of the martyr, which is not even close to his real photograph. This 'painting' picture was popularised by the media after the 1970s, when religion-based politics started influencing Indian politics, of which Punjab became a tragic target during the Khalistan movement.
Till 1970s, the most popular picture of Bhagat Singh was a photograph with a hat, which was clicked on April 3, 1929 — five days before he and BK Dutt hurled bombs in the Central Assembly, now called Indian Parliament, in Delhi. Bhagat Singh and Dutt got clicked from a Kashmiri Gate photographer, whose evidence is recorded in the Assembly bomb case proceedings. This picture still continues to be most popular outside Punjab.
During the martyr's birth centenary celebrations in 2007, Prof Jagmohan Singh, son of Bibi Amar Kaur, the younger sister of Bhagat Singh, and another nephew Abhey Singh Sandhu, researchers MJS Waraich and I printed cards of the four real photos of the martyr and distributed them across India to create awareness. I wrote to the Central and Punjab governments to only use the real photographs, even if one with a turban. It had some impact; for few years, they used the white turban photo in government advertisements. However, over the past four-five years, they have again started using the painting-based picture. It is unfortunate as no other national leader's face has ever been distorted by using his or her painting-based pictures. Only Bhagat Singh, Udham Singh and Kartar Singh Sarabha are shown in imagined pictures, as their real photographs do not suit sectarian politicians and parties. It reminds one of a bizarre incident recently, when the Yogi government in Uttar Pradesh painted Ambedkar's statue in saffron, and in reaction, the BSP repainted it in blue!
Our respected national icons should not be subjected to such conduct. Bhagat Singh looks more handsome in his white kurta-pyjama-turban picture than imposed imaginary yellow and saffron colours with a pistol in his hand. He always wore a white khadi turban and kurta-pyjama, as confirmed by his family members.
One of these photographs was published by The Tribune on the front page during the hunger strike of the revolutionaries in Lahore jail.
Top News
Rana Gurmit Singh Sodhi, Manoranjan Kalia and Amanjot Kaur R...
CM Bhupesh Baghel had earlier accusing the probe agency of c...
Secretary of State Antony Blinken emphasises that Biden Admi...
Gurpatwant Pannu, head of the banned terror outfit Sikhs For...
Satinderjeet Singh, alias Goldy Brar, is a member of Lawrenc...