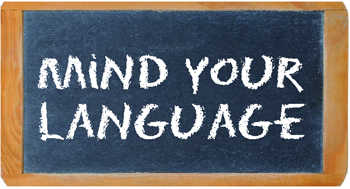 Ratna Raman
Whenever the festival of colours makes an appearance, columns on language take a backseat, since festivals by definition require community participation, revelry and enjoyment. In hindsight, we could examine the world of colour to observe its functioning within the realms of language and culture.
'Color' is American English spelling. The additional 'u' in British usage makes this well-rounded adjective, part of official Indian usage. 'Losing colour' refers to colour fading on fabric or a variety of surfaces and textures, including hair. 'Turning white' describes a human being losing colour and becoming pale on account of fear. 'Local colour' refers to speech, dress and customs prevalent in any particular area or region and can extend to food, drink, crafts and entertainment. The expression 'heightened colour' is used in narratives to describe occidental persons whose faces flushwith rage or embarrassment. Pink is the colour of health while black is the colour of anger and hatred.
Black, white, brown, red and yellow are colour stereotypes used to describe different races. A black and white world exists only in old movies and early newspapers and chessboards that were monochromatic. Subsequently, black and white films were replaced by 'technicolour,' a process in cinematography that enables the making of films in colour.
In situations or debates 'black and white' (adj) alludes to defined opposing principles that can be stated categorically. The origins of this expression apparently date back to the American civil war, where the Whites opposed the Blacks, and represented very different perspectives. In such contexts, invariably resolutions end up being gray. It is not possible to live in a black and white world, literally and metaphorically. Thankfully, our world is filled with colours that delight and dazzle and exist in brilliant hues.
Holi, celebrated by many communities in North India, is a colourful affair heralding the coming of spring. Most revellers and their clothes are coloured in unimaginable shades that take days to wear off. Notwithstanding all the surface gaiety, is Holi a harmonious blend of colour? Those who regard it as unlimited fun are perhaps looking at the festival through rose-coloured spectacles. Their opinion is probably 'coloured' (influenced) by older memories of food and good times and the 'riot of colours' provided by flowering plants and trees.
Young women growing up in North India recently staged protests on university campuses, egged on by the trauma of memories coloured with fear. So perhaps the first rule about colours is that they must be descriptive. It is acceptable to be black, white, brown, red or yellow as long as there is no prescriptive hierarchy accorded to these colours. Similarly, a festival of colour can be celebrated only amidst willing participants. This must be reiterated in black and white (in no uncertain terms).
Top News
Severest of severe action taken: CM | Amritpal's lawyer alle...
BJP slams Cong for skipping RS Chairman's meeting
White House refuses to comment on claim