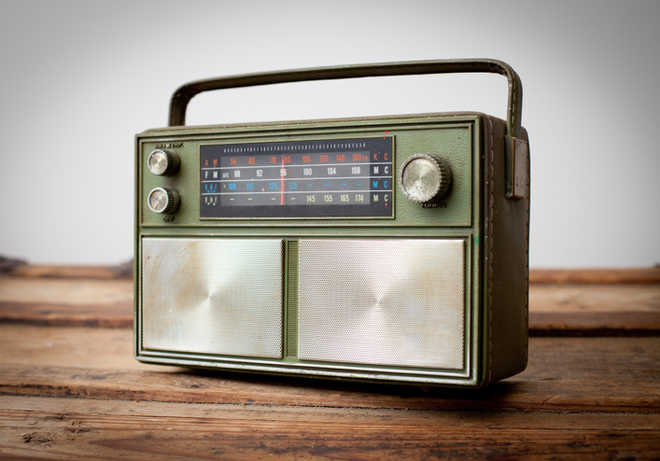 H Kishie Singh
World Radio Day recently reminded me of my first addiction in life. It is still with me and the easy access to music, news and stories gives me my daily fix.
I was very young when the first radio came into our home. It was a large wooden box, highly polished; the left half housed the speaker, the right half had a semi-circular glass panel with numbers written on it and knobs below which worked the radio. The top right hand corner had an electric eye which turned green when the radio was ready to receive. On the top left was a picture of a hand cranked gramophone with a large megaphone. A dog sat in front of the megaphone listening to the music. This was the logo of His Masters Voice, HMV.
My father used to listen to the morning news. The war was still on in Europe and he wanted the latest updates. He would switch on the radio before 8 am for the radio to warm up.
As the green light came on, the radio squeaked, squelched and shrieked fuelling my excitement. The news was in English, I understood only a smidgen! I sat there just staring at this magical contraption.
It was in those days, my formative years, that the radio entered my subconscious. It has been a permanent resident since.
Later, I polished my English listening to the English news by Melville D'Mello and Roshan Menon. Desh Ki Aawaaz, Devkinandan Pandey taught me Hindi. 'A Date with You' with Primila Premchand and her signature tune — Glen Miller's 'In the Mood' — was my introduction to jazz. That addiction, or is it a love affair, is still very much with me.
Ameen Sayani's Binaca Geet Mala still resonates in my head, as does Binaca Hit Parade from Radio Ceylon.
Then came the great leap forward, the transistor. My first transistor radio was the size of a pocketbook. I loved it! On my first posting abroad, I took it with me to Bangkok, only to find that the second Japanese invasion was a fait accompli! Sony, Akai, Panasonic reigned supreme.
I had to buy a radio with an FM station. Bangkok was the first city on the Asian mainland to have television. American movies had a Thai soundtrack which the expats did not understand. No problem, the original soundtrack was on an FM station!
Years later in Montreal, I enrolled for a mass communication course in a local college. We had a course in Radio Communications. The college had a community radio broadcasting studio. Students were allowed to set up their own radio stations, their own call signs.
I set up a radio station called 'AIR'. My call sign — 'This is AIR, All India Railway Station! Aap Samachar me English suno ge, Hindi, French, Bangla, Punjabi, Aarbi...!'
And the music in the background? 'In the Mood' by Glen Miller!