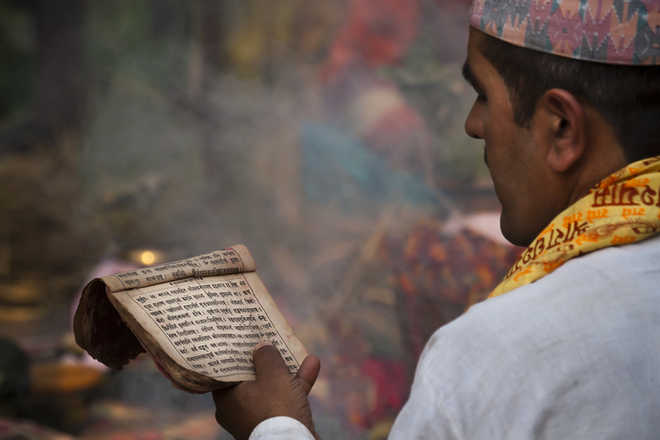 harinder@tribunemail.com
Rakesh Gupta
Before moving on the highly slippery ground, I confess that my knowledge of religion is limited to attending religious ceremonies at weddings and deaths, listening to sermons on television, which I accidentally tune into and reading the Understanding Gita in 45 Minutes, quite like help-books titled 'Excel or MS office for Dummies'. The closest encounter with religion was during the performance of the last rites of my parents. I failed to listen to mantras during my marriage. I forced the panditji to finish the pheras in 15 minutes as I was feeling very uncomfortable sitting there.
Several questions haunt me. I have posed these questions to my friends who are religiously literate and impromptu quote scriptures. Their replies laced with philosophy are like facing Jeff Thomson's 160km/hr bowling — the ball is invisible but wickets are uprooted.
One such person was explaining to me the importance of Navratras, why they are celebrated and the dos and don'ts. He becomes a vegetarian and teetotaller and follows brahmacharya during this period. I asked if accepting bribe was allowed. I could see the anger in his eyes, as if he could have eaten me raw but for the Navratras. It was enough to make me understand that refusing bribe was an act of sacrilege: it is a blessing showered by the goddess Laxmi on her devotees.
After going through Understanding Gita in 45 Minutes, I learnt that lust, anger, greed, attachment and arrogance are vices. Equipping myself with this knowledge, I confronted another friend, a laureate on scriptures across religions. He said every religion preached the same, as also harmony and tolerance. God is one, but has different names. I countered, how can Allah and Ram be the same! Daily I observe somebody getting offended in the name of Ram or Allah. I argued that he was a pretender and knew nothing about religion. If all this was true, what was every 'wise' man fighting for?
In a secular country like India, which is governed by the Constitution, what is the role of religion? He said the Constitution ensured fundamental rights to all, giving freedom to follow any religion. But this freedom ended where the freedom of the fellow citizen began. He seemed to be quoting from the constitution of some faraway liberal, atheistic country. He was cut off from the ground realities. Religion is the most important for us. We have opened more places of worship than schools and hospitals. We can lynch a person who does not agree to our point of view.
Our politicians take oath in the name of the Constitution, but carry religion on their sleeves. There is religious freedom, but only for the self-appointed custodians. My freedom is sub judice to their whims.
Frustrated, he advised me that it was safer for an atheist like me to keep away from such matters. I should focus on cricket and Netflix.
I am following his advice, except one. I am now agnostic. If God exists, I will have something to fall upon.