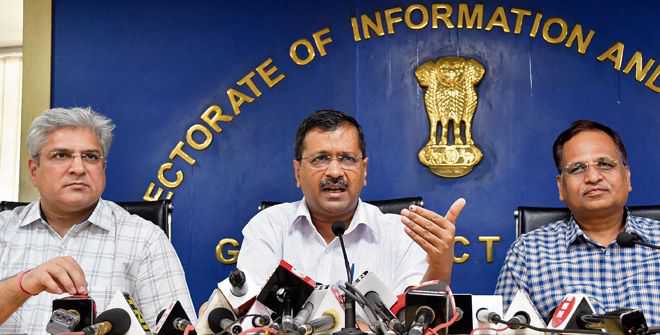 harinder@tribunemail.com
Tribune News Service
New Delhi, July 18
Chief Minister Arvind Kejriwal on Thursday in a press conference here stated that residents of unauthorised colonies would soon get ownership rights of their houses.
The CM said, "Congratulations to the people living in unauthorised colonies. You will soon be owners of your houses. The Centre is willing to give its approval to the proposal sent by Delhi Government in November 2015. The preparations to begin registry have started. I would like to thank the Centre on behalf of the people of Delhi."
Kejriwal said on November 2, 2015, the Cabinet had cleared a proposal to regularise all colonies and sent it to the Centre on November 12. The Centre now sent a communication to the Delhi Government stating its in-principle approval for regularisation of 1,797 unauthorised colonies, he said.
The CM said until now, all Central and state governments had betrayed the people living in unauthorised colonies. Before every election, they would promise regularisation, but never fulfilled their promise. "We started working on this promise right from Day One. The Cabinet cleared the proposal in November 2015 and sent it to the Centre," he said.
He said the Centre had sent some technical questions on the proposal. "In a meeting with officials concerned I directed all senior officials to prepare response to the satisfaction of the Centre within the next 2-3 days," he said.
Camps would be set up to ensure smooth processing of all registries, Kejriwal said, adding, "No development work was ever done in these colonies. They were always deprived of the basic facilities because of being tagged unauthorised by previous governments. There were no roads, drains, sewers, water pipeline, etc. As soon as our government came to power, we started the development work in these colonies on a war footing."
Urban Development Minister Satyendra Jain said the cut-off date for the regularisation of unauthorised colonies would be January 1,2015, as mutually agreed upon by the Central and Delhi Governments. Only the colonies which had applied for regularisation before January 1, 2015, would be eligible for regularisation, he said.