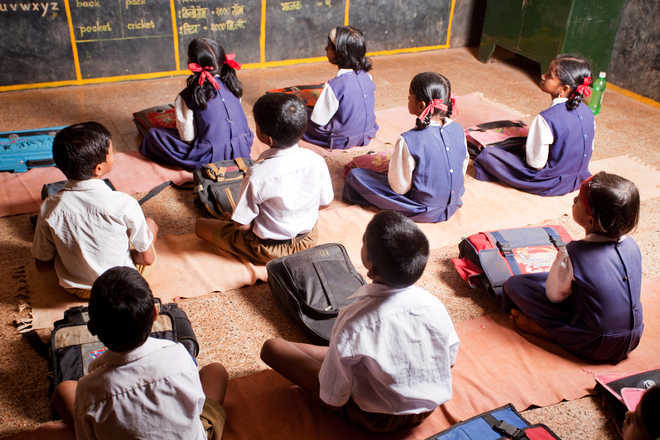 vinaymishra188@gmail.com
Sandeep Sinha
The only time I had a really close brush with Gandhian thoughts was in the takli class in school, where we were supposed to spin yarn from cotton on the slender rod near the base of which was fixed a wheel. The cotton would be joined to the cleft at the top of the spindle which would then be rotated. The marks fetched depended on the quality of the thread woven. The period was compulsory and Darbeshwar Babu, the teacher in charge — a strict disciplinarian that he was — ensured there were no absentees in class. New to the school, I was unaware of it and my classmates, horrified to know that I had no takli and cotton, hurriedly borrowed one for me, trying to instill fear in me by narrating tales of the teacher's dealings with truant kids.
Dressed in dhoti-kurta, Darbeshwar Babu was not quite a Gandhian when it came to implementing Bapu's ideals. He would yell and wield the stick without qualms on those who did not meet his expectations. 'Arrey Gorkha…' he would shout at the boys, expecting from them perhaps the tenacity and grit that these men in the armed forces demonstrated. But I often wondered how boys who really did not work wonders with the spindle got great marks, despite his strictness. It turned out that Darbeshwar Babu, like ordinary persons, had his weaknesses. He loved paan (betel) and there were students who knew of it, placing bundles of it reverentially before him quietly, before entering the exam hall.
Teachers are known for their erudition and sometimes also for their idiosyncrasies. The biology teacher, Ain-ul-Haque, would use mustard oil in his hair. Once he told us, 'People often ask why I use it to oil my hair. Now, what oil did your mother use to massage you after you were born?' After the classes began, he would patrol the corridor, a stick in hand, and cane the latecomers. His cane helped memorise a difficult biology table, after making me stand on the bench in the class.
Getting caned was a regular feature for the boys who would caress their oiled hair with the palm to soften the blow. On another occasion, my classmates and I ended up cleaning the arena — after school hours — after we played Holi with potatoes sliced into half, with '420' etched on them with pen smudged in ink, and then printed on the white shirts of fellow students. Worried parents arrived in school only to know what their wards were up to, and another round of punishment followed, this time at home.
Guardians then regarded teachers as their equivalent and the best part was that punishment came with humour which prevented bitterness from setting in.
Top Stories